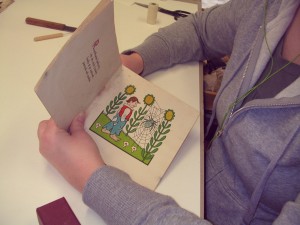 The flood of 2008 threatened to destroy many of Cedar Rapids' treasured artifacts. Since then, the University of Iowa Libraries' Conservation Lab treated over 7,500 items, 100 boxes of manuscripts, and 11,000 single sheets affected by the disaster.
On April 23 the UI Alumni Association will co-host a Lifelong Learning event at the National Czech & Slovak Museum & Library to celebrate the near-completion of the UI Libraries' restoration efforts.
Find out how the UI Libraries partnered with National Czech & Slovak Museum & Library and the African American Museum of Iowa to rescue the city's valuable relics. Panelists will display and discuss the restored items while detailing how these organizations united to preserve these pieces of Cedar Rapids history.
Panelists:
Jeff Kueter – President and CEO, UIAA (moderator)
Dave Muhlena – Library Director, National Czech & Slovak Museum & Library
Brianna Wright – Curator, African American Museum of Iowa
Nancy E. Kraft – Head, Preservation and Conservation, UI Libraries
WHEN: Thursday, April 23, 2015, 6:30 p.m. (reception), 7 p.m. (discussion)
WHERE: National Czech & Slovak Museum & Library, Cedar Rapids, IA
The program is FREE and open to the public. Refreshments will be served and a cash bar will be available. Register by Tuesday, April 21, at: http://www.iowalum.com/lifelonglearning/czech/