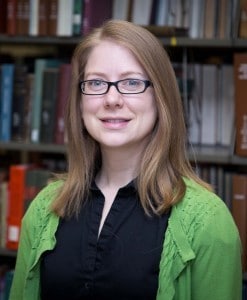 Colleen Theisen of the University of Iowa Libraries has been named a "Mover and Shaker" in the library industry by the Library Journal.
Theisen was recognized in the magazine's March 15 issue for her efforts to transform libraries in the 21st century. She was selected because of her commitment to the profession and her efforts to transform how library outreach and how we learn about, and interact with, the unique primary source collections in academic libraries. Library Journal especially noted herinnovative work connecting communities on campus and online to rare books and historic documents through social media, online video, and in the classroom
Theisen currently serves as special collections outreach and instruction librarian as part of Special Collections & University Archives
"LJ's newest class of Movers & Shakers proves once again that the library arena is rich with innovation driven by mission-focus," said Rebecca T. Miller, group editor, Library Journal and School Library Journal. "Those identified come from across the library universe and beyond, and they are each transforming how libraries connect with and enrich their communities. We congratulate them, and look forward to seeing their ongoing contributions multiply."
Theisen is from Cedar Rapids and graduated from Regis High School before completing her BA in Art History & Archaeology at the University of Missouri-Columbia. She followed her degree with a teaching certificate for secondary art education at Clarke College in Dubuque, before completing her Masters of Science in Information, specializing in archives and records management, at the University of Michigan in 2011. She has worked as outreach and instruction librarian at the University of Iowa for more than three years.
The 2015 Movers & Shakers were selected by the editors of Library Journal, the profession's leading trade magazine. Each of the Movers & Shakers will be prominently featured in the March 15th issue of Library Journal and celebrated at a special luncheon in June during the American Library Association's annual conference in San Francisco, CA. The print feature's companion website is sponsored by OCLC and Boopsie, and it is available at www.libraryjournal.com/movers2015. The luncheon and awards ceremony is made possible by the support of sponsors, including Baker and Taylor, Demco, Mission Bell Media, OCLC, Plata Publishing, Rosen Publishing and Sage.
Read more about new inductees at www.libraryjournal.com/movers2015.
ABOUT LIBRARY JOURNAL
Founded in 1876, Library Journal is one of the oldest and most respected publications covering the library field. Over 75,000 library directors, administrators, and staff in public, academic, and special libraries read LJ. Library Journal reviews over 8000 books, audiobooks, videos, databases, and web sites annually, and provides coverage of technology, management, policy, and other professional concerns. For more information, visit www.libraryjournal.com. Library Journal is a publication of Media Source Inc., which also owns School Library Journal, The Horn Book publications, and Junior Library Guild.