Thank you so much to everyone who created the delectable entries that made this year's Edible Book Festival a success!
We'd like to thank our generous sponsors who provided this year's prizes: Beadology, Blick Art Materials, UI Libraries' Conservation Lab, High Ground Cafe, and New Pioneer Co-op. Thank you to the Friends of the UI Libraries, whose support helped us organize and cater the event.
And we extend a hearty thanks to our judges who had to make some difficult decisions in choosing the winners: Executive Chef of the Iowa Memorial Union Barry Greenberg, Special Collections' Outreach & Instruction Librarian Colleen Theisen, and Conservator Giselle Simon.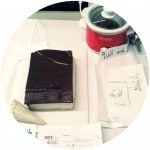 Ella and Jameson Sherlock created a wonderful edible version of Tom Riddle's diary from Harry Potter and the Chamber of Secrets, complete with a basilisk fang and quill ink. Their entry won in three categories: Best Book Structure, Judge's Favorite, and Audience Favorite, and their prizes included a tour of the UI Libraries' Conservation Lab and two gift cards to New Pioneer Co-op.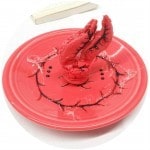 The Best Literary Allusion category went to Lindsay Vella's entry based on Anne Carson's Autobiography of Red, titled "Geryon's Dream Macaron." Her prize was a handful of free coffee coins from High Ground Cafe.
And lastly, the Best Tasting Category went to Connie Sherman's beautiful and delicious Accordion Book of Kolache, which came with the prize of a gift from Beadology.
Other entries were "A Confederacy of Apricots" king cake by Clare Jones based on A Confederacy of Dunces, a cake by Ferguson Ward (assisted by Connie Sherman) based on the webcomic xkcd, an I Want My Hat Back cake by Willow Fuchs, a penguin cake based off of And Tango Makes Three made by Andrea Rost, "Pig Out!" a pie by Kaikobad Irani based on the book Piggie Pie, and The Invisible Boy cookies made by Mary Wallis Gutmann.
Thanks again to all who participated, organized, judged, and ate these incredible edible books!