In the window of the Main Library Gallery sit two bags, a trunk, an Army uniform, and the navy nurse's cape that Evelyn Crary Bacon wore as a student at the State University of Iowa (now the University of Iowa.) What do all of these items have in common? They belonged to members of "The Greatest Generation," a cohort of Americans that came of age during the Great Depression and rose to the occasion of World War II. The Gallery's current exhibition, "Stories Worth Telling: Marking 20 Years of "The Greatest Generation," commemorates the bestselling book by Tom Brokaw as well as members of the generation that inspired it.
The exhibit is centered on a massive ceiling to floor art installation made from copies of enthusiastic letters Brokaw received from fans of the book. It is as if a bag filled with stories is being poured out onto the floor. Around this are cases filled with the stories of individual Iowans, including many women (and one man!) whose materials reside in the Iowa Women's Archives. Here are just some of our collections you'll see represented when you visit:
Evelyn Crary Bacon
Born in 1916 in Grundy Center, Iowa, Evelyn Crary Bacon made her mark in Europe where she participated in the invasion of Normandy as a captain in the U.S. Army Nurse Corps. After the war, Bacon embarked on a teaching career. She held positions in nursing colleges from California to Virginia. Besides her nurse's cape, a WWII military helmet and a canteen from her papers are present in the exhibition.
Dick Hayashi
During World War II, Dick Hayashi's family was sent to live in Japanese internment camps while he spent the war as a member of the Armed Forces. As a soldier, Hayashi met Evelyn Corrie, an Iowa woman who would go on to become columnist and radio homemaker Evelyn Birkby. A photograph of Hayashi and a letter he wrote to her survived in one of her scrapbooks and are now on display.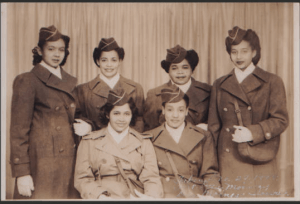 Blanca Vasquez Gaines
Vasquez was born in Puerto Rico in 1918, but military service took her to Iowa. She joined the Women's Army Corps (WAC) and trained at Fort Des Moines just south of the state's capital. There, she met her husband, Harold Gaines. Blanca Vasquez Gaines and her husband lived in Iowa until 1956 when she returned to Puerto Rico to teach English and American Literature at the University of Puerto Rico.
All in all, "Stories Worth Telling" has materials from nine IWA collections and much more from the University of Iowa's Special Collections & University Archives, and the African American Museum of Iowa. You can see the exhibition in the Main Library Gallery until January 4, 2019.