As the site of the Iowa caucuses as well as the home state of countless policy makers and political activists, Iowa is rich with electoral history. As we cast our votes today, we reflect on the decades of campaigning that has brought some of the 20th century's biggest political names to Iowa, as well as the effect of Iowans in shaping national political life. Above is a napkin from "National Ike Day," a 1956 event celebrating the 66th birthday of President Dwight Eisenhower. In a letter to event organizer Anna Cochrane Lomas the next day, Eisenhower commented, "I experienced the warm feeling that I was among good and true friends."
Below are a few more letters and photos that tell stories of the connections between politics and Iowa.
The work of Iowa newspaper columnist and editor Wilma Belden-Collins caught the eye of former first lady Eleanor Roosevelt, who wrote to her about the United Nations General Assembly. Following her husband's death, Roosevelt became the first chairperson of the United Nations Commission on Human Rights, and remained the U.S. representative to that Commission even after stepping down as chair in 1951, the year of the above letter.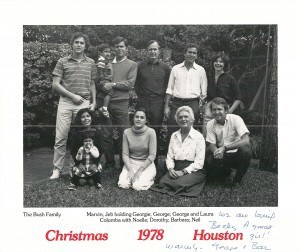 Iowa Women's Archives co-founder Mary Louise Smith was the first woman to chair the Republican Party. Above is a card from the Bush family, written two years before George Herbert Walker Bush's first term as Vice-President to Ronald Reagan. During his own presidential campaign ten years later, Bush sent a letter to Smith, thanking her for her support: "There is no way I can properly express my gratitude – Barbara's, too. You worked hard, you stood at my side when the going got tough, and you were with me, your hand on my shoulder, when things looked very gloomy indeed."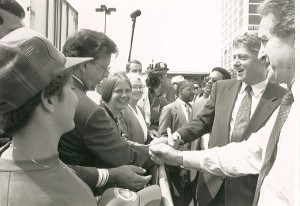 The papers of state representative Kathleen Halloran Chapman capture a smiling moment with Bill Clinton during his campaign stop in Cedar Rapids in 1992. A handwritten note to professor Suzanne Bunkers the following year comes from first lady Hillary Rodham Clinton, and reads: "Thank you for sharing your ideas and suggestions. Bill and I welcome your thoughts. They will be carefully considered as Bill begins to implement his agenda for change in America. Best wishes, Hillary"
Want more? Visit the Iowa Women's Archives! We're open weekly Tuesday-Friday, 10:00am to noon and 1:00pm to 5:00pm.
For materials on Iowa women's fight to secure the right to vote, see our digital collection on Women's Suffrage in Iowa.