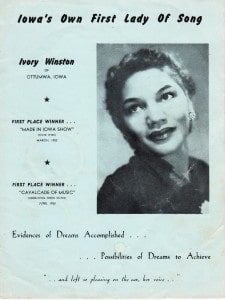 This post was written by Christina Jensen, Student Assistant in the Iowa Women's Archives and graduate student in the UI School of Library and Information Science.
Known as 'Iowa's own first lady of song', Ivory Winston was born in 1911 in Ottumwa, Iowa. The daughter of a Baptist pastor, she grew up in a strict religious household and remembered church as the place that awoke her interest in music and fostered her developing talent. As a teenager, she dreamed of becoming a concert pianist, though she confessed to The Ottumwa Courier that she had little interest in vocal work.
Winston made her professional debut in 1946 to great acclaim, having waited until her mid-thirties to begin her musical career, a decade into her marriage and well after the birth of her two children, Berta Lou and Byron. A 1947 article in The Ottumwa Courier addressed this balance of family and career, describing Winston as a 'busy singer' and 'a busy housewife and mother', and asking, "Can marriage and a career mix?" Winston raised musical children who often joined her on stage during performances close to home.
In 1950 she performed for President Truman on his birthday during a stop in Iowa and led the crowd of 20,000 in a rendition of 'Happy Birthday'. Despite her professional success, the Winston family faced racial prejudice in Ottumwa, including a neighbor's unsuccessful petition to bar the Winston family from moving into a new neighborhood. Winston's son Byron later recalled the petition going unsigned, and the family moving into the neighborhood without incident.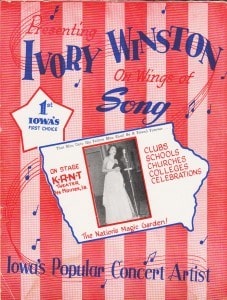 Winston's voice was widely praised throughout her life, yet no known recordings of her singing survived. The Des Moines Sunday Register put out a call in 2006 to its readers to keep an eye out for these missing performance recordings. If you have a recording of Ivory Winston, please notify the Iowa Women's Archives!
Want more? Visit the Iowa Women's Archives! We're open weekly Tuesday-Friday, 10:00am to noon and 1:00pm to 5:00pm.
A list of collections related to African American women in Iowa can be found here