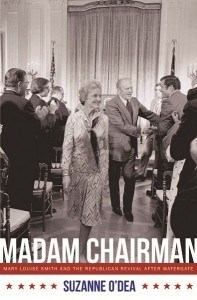 As part of the celebration of the 20th anniversary of the Iowa Women's Archives, Suzanne O'Dea will read from her new biography of Archives co-founder Mary Louise Smith and take questions about her research for the book.
Join us for coffee and pastries at 10:30 a.m. on Saturday, November 10th, in the North Exhibition Hall of the University of Iowa Main Library. After the program, enjoy the exhibition Pathways to Iowa: Migration Stories from the Iowa Women's Archives, or join Curator Karen Mason for a tour of the Iowa Women's Archives.
Parking is available in the cashiered lot west of the library. The library opens at 10:00 a.m. on Saturdays.
Madam Chairman: Mary Louise Smith and Revival of the Republican Party After Watergate, published in October by the University of Missouri Press, is based on extensive interviews O'Dea recorded with Smith and her staff at the Republican National Committee in the early 1990s, and on archival research in the Mary Louise Smith Papers at the Iowa Women's Archives and the Gerald Ford Papers at the Ford Presidential Library in Ann Arbor, Michigan.
Madam Chairman explores the career of Mary Louise Smith, a woman in a world of politics run by men, to recount Smith's and the GOP's changing fortunes but also the challenges Republican women faced as they worked to gain a larger party presence. Like many women, Smith started out making coffee, stuffing envelopes, and knocking on doors at the precinct level, and honed her political skills in Republican women's organizations at the state and national level before being elected Republican National Commiteewoman from Iowa in 1964.
Smith became the first woman to serve as chairman of the Republican National Committee when President Ford appointed her to the position in 1974. During her twenty-eight months as chairman, Smith worked to rebuild the party following the devastation of Watergate, developing innovative fundraising strategies still used today. A supporter of the Equal Rights Amendment, reproductive rights, and gay rights, Smith grew increasingly alienated from the Republican Party as its leadership shifted from the moderate views espoused by Ford to the more conservative leadership still seen today, yet she remained loyal to the party.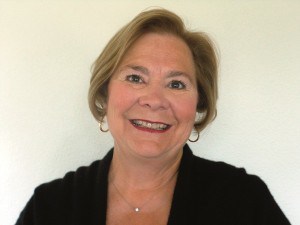 Suzanne O'Dea is the author of three books, including Legislators and Politicians: Iowa's Women Lawmakers. She lives in McKinleyville, California.