It's the good 'ole summertime!
The time when thoughts often turn to picnics and barbecues!
Yup, it is that time of year – the time for summer cookouts and get-togethers. And, hopefully, no food-borne illnesses!
Did you know the Centers for Disease Control and Prevention (CDC) estimates that 48 million people get sick from a foodborne illness, 128,000 are hospitalized, and 3,0o0 die, each year (emphasis mine).
There are things that can be done to keep you, your friends, and family from becoming one of those statistics. We have the resources to help you stay safe, although according to Jeff Potter, author of Cooking for Geeks: Real Science, Great Hacks, and Good Food, there is "no such thing as 100% safe."
Planning to marinate meat to grill? Potter warns: "… recipes that say that say to marinate at room temperature: don't! Let it marinate in the fridge." That is because of the "danger zone rule." Bacteria which is related to foodborne illnesses begin to multiply above 40°F/4.4°C. The standard safety rule provided by the FDA says that food should not be held between the temperatures or 40°F/4.4°C and 140°F/60°C for more than 2 hours. Bacillus Cereus has the highest survival temperature, at 131°F/55°C. (Potter notes: "Who said scientists don't have a sense of humor? Try saying B. Cereus out loud.")
Here's a Fun Fact: "hamburger" can have beef fat added to it; "ground beef" can't!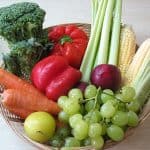 Salmonella is one of the most well-known foodborne illnesses. But, the primary source of salmonella isn't chicken or meat, but vegetables and fruits. So, be sure to wash those fruits and veggies!! A single bacterium of salmonella probably won't cause a problem, but a few dozen cells will dramatically increase the chances of illness. Norovirus (from the family of caliciviruses) also receives a good deal of attention. The norovirus is contracted when a sick person prepares food for others. For more information and a list of pathogens and the foods which may be carriers head over to Wiley Online. (You'll need to sign on with your Hawk ID and password).
Note: "… Salmonella is killed at 136°F only when held for a sufficient length of time…" Seeing your thermometer register a hotter temperature does not guarantee the food will be free of salmonella. For more information check out the U.S. Food & Drug Administration's Bad Bug Book.

Did you know that serving spoons are supposed to stay in the food? This insures they stay above the 140°F temperature. "Otherwise, that mashed potato clinging to the serving spoon at room temperature will be a potential hangout spot for bacteria."
When cooking meat, be aware that a change in the color is really not an accurate indicator of how done the meat is. "Myoglobin, oxymyoglobin, and metmyoglobin can begin to turn grey starting around 140°F/60°C, and they can also remain pink at 160°F/71°C if the pH is at or about 6.0." It is important to use a thermometer when cooking ground meats and poultry!
Potato salad is notorious for spreading foodborne illnesses, but contrary to to what you might think, mayonnaise that isn't the culprit! In fact, you could leave commercial mayonnaise out at room temperature and not worry about it making you ill. However, potato salad is often prepared and served at room temperature and it is often outside at a picnic or gathering at which there is no refrigerator. So, what does make potato salad so notorious? It takes 2-4 hours for staph or other pathogens to "get accustomed to their surroundings and really get ready to ramp up binary fission." (Potato salad, food poisoning and contortionists). If the potato salad has been sitting for several hours at the right temperature, "trouble will ensue."
If you are worried about bacteria multiplying and spreading in your food, remember this trick: FAT TOM.
F=Food: bacteria need proteins and carbohydrates to multiply, so obviously, no food, no bacterial multiplication!
A=Acidity: bacteria need certain pH ranges. Too acidic and proteins in the bacteria denature.
T=Temperature: Too cold – the bacteria sleep; too hot and they die.
T=Time: There needs to be enough time for the bacteria to multiply to a point where there enough to make a person ill.
O=Oxygen: Bacteria needs sufficient oxygen to multiply. (Note: Vacuum-packed bags ore not necessarily devoid of oxygen).
M=Moisture: Bacteria need water to reproduce. Bacteria need a water activity value of 0.85 or higher in order to multiply. (The water activity scae is used to measure the freely available water in a material – from 0 to 1).
Wondering how to accurately measure temperature? Head to our Tool Library webpage and explore the measuring devices that are available for you to check out! We have 2 thermal cameras, an infrared thermometer, environmental meter and more! Use our tools to help keep your food at safe temperatures!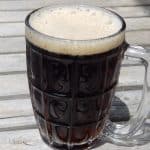 Now that you are sure that your meats and potato salads will be safe for your outdoor party, you can think about what cold beverage you'd like to serve! How about making your own root beer? Homemade Root Beer, Soda, & Pop will explain the history and discuss the equipment needed to make them! It even includes recipes for ginger beer and cream soda!
Enjoy the summer grilling and picnic season! And, be safe!!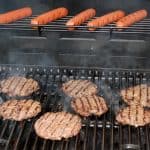 Resources:
Potter, Jeff. 2010. Cooking for geeks : real science, great hacks, and good food. Sebastopol, CA : O'Reilly First Edition. Engineering Library TX715 .P88 2010
Foodborne Illnesses and Germs. Feb. 15, 2018. Centers for Disease Control and Prevention.
Bad Bug Book. 2nd Edition. U.S. Food & Drug Administration. Date Accessed: July 2019
Revere. Jan. 10, 2010. Potato salad, food poisoning and contortionists. Science 2.0. ScienceBlogs. Date Accessed: July 2019.
Cresswell, Stephen Edward. 1998. Homemade root beer, soda & pop. Pownal, VT : Storey Books. Engineering Library TP630 . C74 1998
Other Resources:
Satin, Morton. 2008. Food alert : the ultimate sourcebook for food safety. New York, NY : Facts On File. Engineering Library RA601.5 .S28 2008
Lawley, Richard; Laurie Curtis; Judy Davis. 2008. The food safety hazard guidebook. Cabridge :RSC Pub. Engineering Library RA601 .L39 2008
Kuhne, Cecil C. III. 2013. The little book of BBQ law. Chicago : American Bar Association. Law Library KF1250 .K85 2013
Nemerow, Nelson L. 2009. Environmental engineering. Prevention and response to water-, food-, soil-, and air-borne disease and illness. Engineering Library RA643 .E58 2009