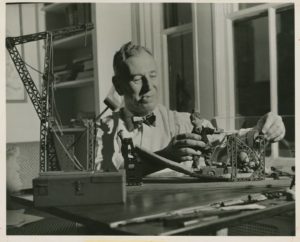 Rube Goldberg was born Reuben Garret Lucius Goldberg in 1883 in San Francisco. He started drawing through tracing illustrations at four years old. Encouraged by his father, Goldberg attended U.C. Berkeley, graduating in 1904 with a degree in Engineering. His first job was with the City of San Francisco, creating maps of sewers and water lines. He stayed in this position for six months, when he started at the San Francisco Chronicle where he started his career as a cartoonist. In 1907 he moved to New York City where he joined the New York Evening Mail as a sports cartoonist. One year later, Goldberg published his first commercial success: a comic strip called "Foolish Questions." A few years later, the newspaper was syndicated, giving his comics a larger readership and making him the most popular cartoonist in the United States. He would go on to create several other comic strips, including "Mike and Ike (They Look Alike)," "Telephonies," and his most famous comic "The Inventions of Professor Lucifer Gorgonzola Butts, A.K.," which ran from 1929-1931. While Goldberg started creating inventions in his cartoons in 1912, it was in the "Professor" comics where they were most prominent. We encourage you to explore the gallery on the official Rube Goldberg website! Goldberg would continue working until his retirement in 1963. Over his lifetime it is estimated that he drew over 50,000 comics.
But what is a Rube Goldberg machine? According to the official Rube Goldberg website, Goldberg is "the only person ever to be listed in Merriam-Webster's Dictionary as an adjective." That definition is "accomplishing by complex means what seemingly could be done simply. . . also: characterized by such complex needs." Goldberg developed his flair for dramatic and outlandish machines after observing his engineering colleagues and noting that a project or task was often made more difficult than necessary. Wallace of the Wallace and Gromit franchise often creates his own complicated Goldberg-esque machines, although in the United Kingdom they are known as "Heath Robinson" machines.
In 1949, two fraternities at Purdue University held the first Rube Goldberg Machine Contest. In 1989, the competition went national, and in 1996, a high school division was added. In the national Rube Goldberg Machine Contest, each machine must complete the prescribed task in between 20 and 75 steps. Today's national contests are held by Rube Goldberg Inc., which is currently run by Goldberg's granddaughter, Jennifer George.
We are holding our own Rube Goldberg Competition this weekend here at the College of Engineering. If you want to see the machines in action, stop by to see the judging of the machines on Sunday, April 24th from 1-2 pm.