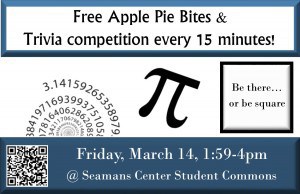 Join the Lichtenberger Engineering Library and the People in Engineering LLC for an exciting afternoon of free pie and Pi(e) trivia.
The fun begins at 1:59 pm on 3.14 in the Seamans Center Student Commons.
Show off your knowledge of Pi(e). Form a team of four and pre-register for a trivia game at http://goo.gl/Ncnvmy.
Pi Day is open to all students, faculty, and staff. Be there or……. be square!