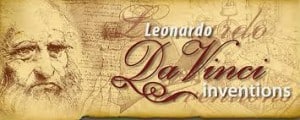 Come see the exhibit on Leonardo da Vinci: The Engineer at the Lichtenberger Engineering Library.  The exhibit includes models of some of his engineering feats:  a catapult and a multiple sling designed as war machines to hurl stones, a paddleboat and a great kite.  Stop by and see pictures of his underwater breathing machine, a steam cannon, a gigantic crossbow and the Vitruvian man.
Included in the exhibit case are facsimiles from the University's Special Collections of da Vinci's original manuscripts printed from the collection of the Institute de France.  Twelve manuscripts written between 1492 and 1516 were brought back to Italy by Francesco Melzi, his favorite pupil, after da Vinci's death.  These facsimiles feature over five thousand pages of drawings and notes in his characteristic "mirror-image" hand-writing, running from right. The sections on display in the case are those related to:  the military art, optics, geometry, the flight of birds and hydraulics.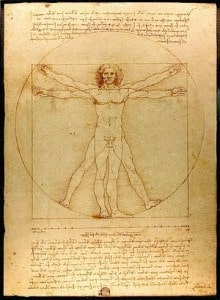 One of Da Vinci's famous drawings is of the Vitruvian Man, a drawing created in 1490, is accompanied by notes based on the work of the architect Vitruvius and Book III of his treatise De Architectura.  Vitruvius the architect described the human body with having ideal proportions.  The drawing, pen and ink on paper, depicts a male figure in a square within a circle.  The drawings sometimes referred to as the "Proportions of Man," and named in honor of the architect Vitruvius, represent da Vinci's blend of art and science.  Encyclopaedia Brittanica online states that da Vinci "believed the workings of the human body to be an analogy for the workings of the universe."
Those of you interested in hydraulics may know about Enzo Macagno.  In 1960, Macagno became interested in studies of the history of fluid mechanics and the life of da Vinci.  Along with his colleague and late wife, Matilde, Macagno became an international expert on da Vinci, publishing numerous articles and IIHR monographs on the interpretation, analysis, and synthesis of da Vinci's codices and manuscripts as they relate to fluid-flow and transport phenomena.  You will find more information in the exhibit case and two monographs from Special Collections on Macagno's work.
This is just a sampling of what can be seen at the Lichtenberger Engineering Library's Leonardo Da Vinci: The Engineer exhibit. Stop by to learn more!
References
Capra, Fritjof. The Science of Leonardo.  New York: Doubleday,2007. Engineering Library Q143.L5 C37 2007 http://infohawk.uiowa.edu/F/?func=find-b&find_code=SYS&local_base=UIOWA&request=004251437
da Vinci, Leonardo, 1452-1519.  Leonard da Vinci: scientist, inventor, Artist.  Ostfildern-Ruit [Germany]: Verlage Gerd Hatje, 1997. Engineering Library N6923.L33 A4 1997 http://infohawk.uiowa.edu/F/?func=find-b&find_code=SYS&local_base=UIOWA&request=007162629
Kemp, Martin.  Leonard Da Vinci Experience, Experiment and Design.  Oxford: Princeton University Press, 2006. Art Oversize FOLIO N6923.L33 K449 2006. http://infohawk.uiowa.edu/F/?func=find-b&find_code=SYS&local_base=UIOWA&request=003637253
Laurenza, Domenico.  Leonardo on Flight.  Baltimore: The John Hopkins University press,2004. Engineering Library TL540.L4 L38 2007. http://infohawk.uiowa.edu/F/?func=find-b&find_code=SYS&local_base=UIOWA&request=004220622
Moon, Francis C.The Machines of Leonardo Da Vinci and Franz Reuleaux.  New York: Springer, 2007. Engineering Library TJ 230 .M66 2007. http://infohawk.uiowa.edu/F/?func=find-b&find_code=SYS&local_base=UIOWA&request=004382572
Museo Nazionale Della Scienza E Della Technologia Leonardo Da Vinci.(2014).Retrieved from http://www.museoscienza.org/english/leonardo/manoscritti/