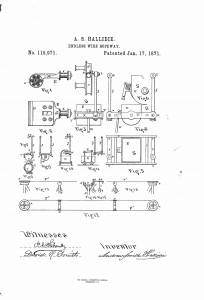 For more than two centuries, trains have traversed the American landscape altering how and where people live and work. This is why, in 2008, Amtrak created National Train Day to be celebrated on the Saturday closet to May 10th, the anniversary of the pounding of the Golden Spike in Promontory, Utah which marked the completion of the First Transcontinental Railroad.
The first locomotive was built in 1804 by a Cornish inventor named Richard Trevithick. It was powered by steam. A steam locomotive burns fuel, usually coal. The heat then passes though tubes inside a large water-filled boiler creating steam. The steam then passes through high-pressure tubes to cylinders which engage piston rods connected to the locomotive's wheels, thus driving the train.1
The steam engine remained popular until the early 1900s when diesel and electric began replacing it. A German mechanical engineer, Rudolf Diesel, invented the diesel-powered locomotive. A diesel engine operates when a cylinder piston squeezes and heats air trapped inside; at the top of the stroke, the system injects oil; the air and oil mixture burns and drives the piston down which turns a crankshaft connected to a generator making eletricity for storage in large batteries. The wheels are powered by motors that draw from the batteries. 2
On January 17, 1871, Andrew Smith Hallidie, an American engineer and inventor, was granted a patent for an "improvement in endless wire ropeways" which became the basis for the first cable car system.3 Soon, however, electricity changed city transportation. In 1897, Boston opened an electric subway system. New York City soon followed in 1904. The all-electric locomotive requires either an overhead pickup or a third-rail carrying a high-voltage of electricity to power the engine. Electric trains are easier and cheaper to maintain and last longer than diesels.4
Now coming down the track are hybrid trains which use a battery to store energy temporarily for when the train is idling or stationary; "bullet trains" which run on steel rails at accelerated speeds; magnetic levitation trains which hover above rails suspended by powerful magnets; and the futuristic Hyperloop, Elon Musk's vision for transporting people in high speed capsules through a series of tubes.
The world's fastest passenger train, the Maglev, owned by the Central Japan Railway Company, made history last month by hitting a top speed of 366 mph surpassing its previous record of 361 mph set in 2003.
The Federal Railroad Administration was created by the Department of Transportation Act of 1966. The U.S. agency regulates the manufacturing and safety of the train transportation industry. A few of the more widely known train manufacturers are National Railway Equipment Company (NREX) headquarted in Mt. Vernon, IL. This company is known for its N-ViroMotive engine which is used for light duty road switching in yards and urban areas where noise and exhaust emissions are to be reduced. GE Transportation Systems (GETS), a division of General Electric, is headquartered in Chicago while its main manufacturing plant is located in Erie, Pennsylvania. This company is the largest producer of diesel-electric locomotives. Its Dash9 series has an electronic fuel injector and a 4-stroke diesel engine.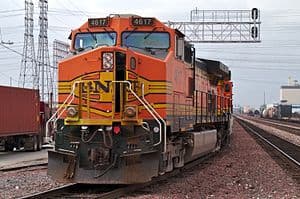 Gomaco Trolley Company, located in Ida Grove, Iowa, manufactures trolley cars which look vintage but have state-of-the-art technology. Streetcars or cable cars are used in cities such as Portland, San Diego, San Francisco. Rapid transit commuter trains, known as the metro or subway, are a primary means of transportation in Atlanta, Washington D.C., and New York. U.S. Manufacture of Rail Vehicles for Intercity Passenger Rail and Urban Transit documents several companies which manufacture parts for high-speed, rapid transportation.
LEARN MORE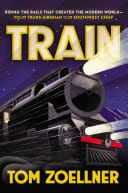 Sinclair, Angus. Locomotive Engine Running and Management, 21st edition. New York: J. Wiley & Sons, 1899, Engineering Library TJ607 .S6 1899
Wolmar, Christian. Blood, Iron & Gold: how the railroads transformed the world. New York: PublicAffairs, 2010. Engineering Library HE1021 .W78 2009
Zoellner, Tom. Train: riding the rails that created the modern world. New York: Viking, 2014. Engineering Library HE1021 .Z64 2014
Federal Railroad Administration. U.S. Department of Transportation
Facebook: National Train Day 2015
Brasor, Philip and Tsubuku, Masako. How the Shinkansen bullet train made Tokyo into the monster it is today. The Guardian, September 30, 2014
Vartabedian, Ralph. "Work starting on the bullet train; Construction begins Tuesday in Fresno on the first 29-mile segment of the $68-billion fast train.." Los Angeles Times. (January 5, 2015 Monday ): 1252 words. LexisNexis Academic. Web. Date Accessed: 2015/05/07.
Upbin, Bruce. Hyperloop is real: meet the startups selling supersonic travel. Forbes, March 2, 2015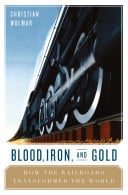 REFERENCES
1. Langone, John. The New How Things Work. Washington, D.C.: National Geographic Society, 2004, p.84. Engineering Library FOLIO T47 .L2923 2004
2. Langone, John. The New How Things Work. Washington, D.C.: National Geographic Society, 2004, pp.86-87. Engineering Library FOLIO T47 .L2923 2004
3. Hallidie, A.S. U.S. Patent 110,971. Improvement in Endless Wire Ropeways. Assigned January 17, 1871.
4. Langone, John. The New How Thinks Work. Washington, D.C.: National Geographic Soceity, 2004, pp.88-91. Engineering Library FOLIO T47 .L2923 2004