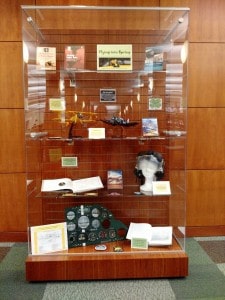 Welcome Spring! The Lichtenberger Engineering Library exhibit is now highlighting the dream of flight. The idea was inspired by Hayao Miyazaki's last film The Wind Rises. The film is a look at the life of Jiro Horikoshi, the man who designed Japanese fighter planes during World War II, and his love of flight.
The fascinating exhibit items including aircraft models, a prototype helmet, an instrument panel, challenge coins, and patches are borrowed from the Operator Performance Laboratory. The Operator Performance Laboratory, a unit of the University of Iowa Center for Computer–Aided Design, is located at the Iowa City Municipal Airport. The laboratory, housed in a hangar, holds three aircraft and two simulators, and mainly conducts research on human-in-the-loop and intelligent autonomous systems. Believe it or not, when visiting the laboratory, we saw a big stuffed bear as a "pilot" in the cockpit of Beechcraft A-36 Bonanza!
The old-looking instrument panel in the exhibit case is from the rear cockpit of an Aero Vodochody L-29 Delfin. The Aero L-29 Delfin (dolphin), NATO designation Maya, is a military trainer aircraft. It was firstly designed and built by Aero Vodochody for the Czechoslovakian Air Force and Soviet Air Force. The laboratory's L-29 can climb at the rate of 14 m/s (2,800 ft/min). The maximum speed of the aircraft is 820 km/h (510 mph). The range and service ceiling are 900 km (560 mi) and 11,500 m (37,700 ft).
For those who are passionate about flight, please check out related books and DVDs (https://www.pinterest.com/UIEnginLib/ ) from the Engineering Library. The library also holds non-technical books on aviation such as The Wright Brothers and the birth of aviation, and Women and flight: portraits of contemporary women pilots.
Come and see the exhibit to find more!
References
Operator Performance Laboratory website. Retrieved from https://hfdata.opl.uiowa.edu/opl/
Aero L-29 Delfin. Retrieved from http://www.military-today.com/aircraft/l29_delfin.htm
Research Aircraft Specification Sheet. Retrieved from https://hfdata.opl.uiowa.edu/opl/?q=l29