Get your study skills ready for the new school year! The Engineering Library has several study spaces available to fit your study style.
Group Study
Even when you're in the library you don't always have to be silent. If you have a group project or if you have more success studying with a group, we have options for you!
For groups of 2 to 4 (or even one person) you can reserve one of our two Pods. These small rooms include a large table, a white board, and a large screen that you can connect to using the Solaris system. Just follow the simple instructions on the screen to easily share your screen. Pods need to be reserved, which you can do here.
Small groups can also use the tables on the main floor of the library for spontaneous quiet study.
If you have a larger group, check out the Creative Space! We have large monitors you can hook up to your computer, whiteboards all around, and tables you can move around to fit your needs. We also have specialized equipment, like a 3D scanner and printer, virtual reality stations, and more (you can see the whole list here.) The space is open for all students on a first come first serve basis, and may sometimes be closed for workshops.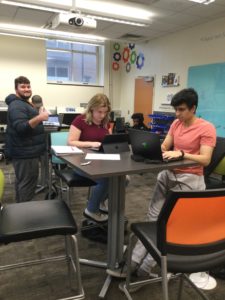 Solo Study
If you study by yourself we've got space for you! You can of course always use the areas listed above, but if you want more options, here are a few:
If you need some technology you can use one of our many desktop computers.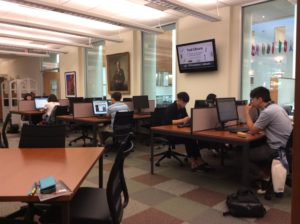 We know that studying can be a long and stressful process, so we have some comfy spaces for you to sit with armchairs upstairs and downstairs. Downstairs you can find armchairs next to our virtual aquarium or fireplace. While you're welcome to talk freely on the main floor, the downstairs level of the library is silent study space.
If normal chairs aren't your thing, we also have bean bag and gaming chairs that can be found around the shelves downstairs.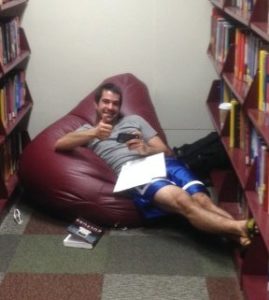 You can also find individual desks (sometimes called carrels) upstairs and downstairs. They include lights to help you see your notes and outlets to plug in your equipment.
We're always looking for ways to improve how we the space works for our students. If you have ideas of what you would like to see let us know!