The last long weekend of the summer – Labor Day – is upon us.  Don't you really want to do something fun and different? Have any of those swimming pool noodles lying around?
You may not want to store them over the winter – so why not make your own airframe, floating, flying quad? Make: technology on your time can walk you through the steps and in no time you'll have a sturdy, airframe, quadcopter that can fly and float!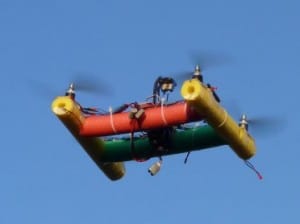 The April/May 2015 issue (vol. 44) of Make will not only help you make an inexpensive fun drone for the whole family, it has several articles on drone races, drone derby guidelines, 3-D printed racing drones and tricopters. This issue, in fact,  has DIY instructions for 5 multicopters!
There is also information about making your DIY drone watertight and protecting it from the elements. Each project has a list of materials, tools, and estimate of the cost and time involved in creating your very own DIY drone. The Noodle Copter requires pool noodles, battery, flight control board, among other things. The specific size and types of items and tools needed are specifically listed.
Mark Harrison, the designer of the Noodle Copter, uses it as a trainer. He says "I can't imagine much you could do to break a pool noodle!" Perfect if you want to try your hand at flying a drone for the first time, or to get better at it before you use the more expensive ones. Harrison has also filled a Noodle Copter with LEDs making it possible to fly it at night.
Make a Noodle Copter and enjoy the long weekend!!