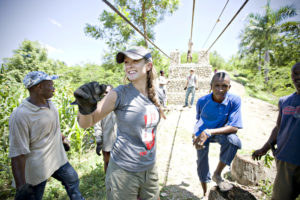 Avery Bang is putting her engineering skills to work to create social and economic opportunities by building bridges. The daughter of a civil engineer, Bang learned the importance of infrastructure early in life. Bang graduated from the University of Iowa in 2007 with dual degrees in Civil Engineering and Studio Art. In addition to her degrees from Iowa, she has a MS in Civil Engineering from Colorado University Boulder, and an MBA from the University of Oxford. While here at Iowa, she worked as a research assistant at IIHR-Hydroscience & Engineering and completed an internship in structural engineering. She was very involved in student organizations, and was the president of Engineers for a Sustainable World, and founded Iowa's student chapter of Engineers Without Borders.
During a study abroad trip to Fiji, Bang saw the impact a well-placed bridge could make. In an interview for the film "Dream Big," Bang said "One of the communities had recently opened a footbridge development project, and I was able to see firsthand how a simple bridge was transforming their everyday world. People could get to the doctor, to schools, and to markets they could never have reached before. I directly experienced how structures change people's lives. That's when I really started taking engineering seriously – it became both a passion and a purpose for me." The next year, Bang joined Bridges to Prosperity, establishing their University program. In two semesters, she and a team built a bridge in a remote area of Peru.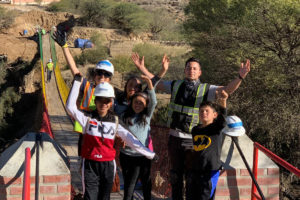 Bridges to Prosperity (B2P) was founded in 2001 with the mission to build bridges to connect rural communities to medical, academic, and economic opportunities using bridges that span rivers, valleys, and other geographic obstacles. According to their website, their projects have impacted 1.3 million people. Benefits of these project include, a 12% increase in enrollment in school, an 18% increase in medical visits, and a 30% increase in labor income and 75% increase in farm profits for the community. They have completed projects in Rwanda, Panama, Nicaragua, Haiti, and Bolivia. These projects partner with local communities to ensure that these bridges are monitored and maintained regularly.
Avery is now the President and CEO of B2P and has given several public talks, including a TEDTalk at TedWomen 2017.
Works Cited
Bang, A. (n.d.). Avery Bang. Hi, I'm Avery. https://www.averybang.com/
Bridges to Prosperity. (n.d.). Bridges to Prosperity: The global leader in rural infrastructure development. https://www.bridgestoprosperity.org/
Dream Big. (2016, December 23). Avery Bang. Dream Big: Engineering Our World. https://dreambigfilm.com/team/avery-bang/
University of Iowa Civil and Environmental Engineering. (2015, December 18). Alumna Avery Bang Honored as One of 15 Inspiring Women CEOs that Impacted The World In 2015 | Civil and Environmental Engineering. https://cee.engineering.uiowa.edu/news/alumna-avery-bang-honored-one-15-inspiring-women-ceos-impacted-world-2015
University of Iowa College of Engineering. (n.d.). Avery L. Bang. College of Engineering – The University of Iowa. https://engineering.uiowa.edu/alumni/awards/honor-wall/distinguished-engineering-alumni-academy-members/avery-l-bang