Archibald (Archie) Alphonse Alexander was born in Ottumwa in 1888, one of eight children. His father provided for his family, working as a custodian. When Alexander was 11, his family moved to a small farm on the outskirts of Des Moines. His father was promoted to head custodian for the Des Moines National Bank, and the extra income allowed Alexander and his siblings to attend school. Alexander graduated from Oak Park High School at the age of 17. Although there were not sufficient funds to support him, Alexander was determined to be a college graduate, specifically, an engineer. He started in higher education at Highland Park College in Des Moines. His freshman year had gone well, but when it came time to prepare for his sophomore year, Alexander learned that the school had banned Black students, on account to students from the South leaving due to the classes being integrated. Alexander decided to move to Iowa City and start at the University of Iowa at 20.
Alexander, who had been a standout athlete in high school, brought his skills to Iowa City, joining the University of Iowa Football Team and started for the first three years of his career. From a biography on Alexander from the American Society of Civil Engineers, Alexander was "considered a giant of a man at 6 feet 2 inches and 180 pounds, at a time when the average college football player was 5 feet 7 inches and weighed 135 pounds, Archie was popular with both fans and teammates who nicknamed him 'Alexander the Great,' both for his size and his athletic prowess" (Weingardt, 2009). Alexander also made an impact in the classroom. While his professors were supportive, the dean at the time was skeptical of Alexander's future success, as he had never seen a successful Black engineer.
Alexander graduated in 4 years at the age of 24 in 1912, earning a BA in Civil Engineering, a varsity letter in football, and working multiple jobs to support himself. He was the first Black graduate from the College of Engineering. He moved back to Des Moines where he joined the Marsh Engineering Company. The founder, James B. Marsh had made his name by designing the Marsh Rainbow Arch Bridge. His time with Marsh's company have a major impact on his career, which would focus on bridge building. In 1914, Alexander struck out on his own and founded A.A. Alexander, Inc., where he intended to only work on bridge building. At the beginning, winning contracts proved difficult, as many people were not open to working with a firm run by Black man, especially if other firms also bid. As a result, for the first few years A.A. Alexander, Inc. would design build only small bridge projects where they were the only bidders. Alexander was able to build his reputation, and eventually started winning larger projects.
A few years into his business, Alexander was joined in business by George F. Higbee in a unique but effective interracial partnership. (This Higbee is not to be confused with Frederic Goodson Higbee, Professor and Head of Engineering Drawing, whose portrait hangs in the library here). Alexander would again be the sole proprietor of his company after Higbee was killed in a construction accident in the early 1920's. During this time, he expanded the firm's portfolio, building tunnels and power plants. Current students and members of the Iowa City community can see Alexander's work in the University of Iowa Power Plant, completed in the mid 1920's. This project also included steam tunnels that traveled under the Iowa River, providing steam and heat to the new west campus, including the Hospital and Field House.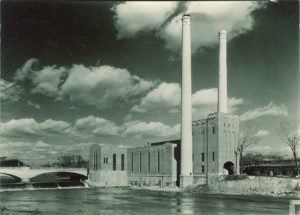 Alexander's time working in Iowa City would further impact his life when he was joined in business by Maurice Repass. Repass had graduated one year after Alexander and been a member of the football team. Alexander and Repass would take on several large projects across the country, from Michigan, Nebraska, the Tuskegee Institute and even Washington, DC. One of their most recognizable projects is the Kutz Bridge, completed in 1943. If you have ever visited DC to see the cherry blossoms in bloom, or looked out over the steps of the Thomas Jefferson Memorial, you have likely seen Kutz Bridge.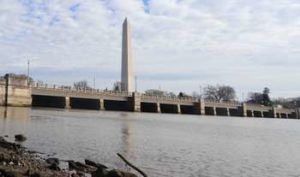 A lifelong Republican, Alexander worked his whole life to improve the lives people of color. In Des Moines he helped to found the local chapter of the NAACP in 1944. He also served on the boards of Howard University and the Tuskegee Institute, both historically Black institutes. He and his wife Audra often vacationed in the Caribbean, and after his backing of Eisenhower's successful presidential campaign, he was tapped to be the Governor of the United States Virgin Islands. Unfortunately, his work there was not well received, and his time in the Virgin Islands lasted a little over a year. He would pass away in Des Moines on January 4, 1958 at the age of 70, leaving behind a legacy of hard work. Upon his wife's death, the Archie A. Alexander Memorial Scholarship was established at the University of Iowa.
Works Cited
Jones, J. (2019, June 28). Archibald Alphonso Alexander: African American Design and Construction Genius. Black Then. https://blackthen.com/archibald-alphonso-alexander-african-american-design-and-construction-genius/
Landis, L. (2021, March 4). Iowa History Month: Archie Alexander built equality across the nation. Des Moines Register. https://eu.desmoinesregister.com/story/life/2021/03/04/iowa-history-month-archie-alexander-built-equality-across-nation/6803998002/
University of Iowa College of Engineering. (n.d.). Archibald A. Alexander. College of Engineering – The University of Iowa. https://engineering.uiowa.edu/alumni/awards/honor-wall/distinguished-engineering-alumni-academy-members/archibald-alexander
Weingardt, R. G. (2009). Archibald Alphonso Alexander. Leadership and Management in Engineering, 9(4), 207–211. https://doi.org/10.1061/(asce)lm.1943-5630.0000029