April Showers Bring May Flowers!
And Umbrellas!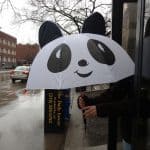 Do you know how many types of umbrellas there are now? Not just the 'normal' umbrella with the hooked handle, the umbrella that opens and closes at the touch of a button, or the umbrella that is small enough to fit in a pocket or bag…. Now there are umbrellas that forecast the rain and have a geolocator so you don't ever lose it, umbrellas that will play videos on the underside of the dome, umbrellas that change color with the rain, umbrellas with wind vents, umbrellas that open "upside down," even a mister-equipped umbrella designed to protect from precipitation, from the sun and harmful UV rays and also allows the user to activate a mist head to help cool off on hot, sunny days. And, the list goes on…. Curious about how many patents there are for umbrellas? Go to our Patents Guide and use any of the "Where to Search" links to explore and see what is out there – and when the patents were filed!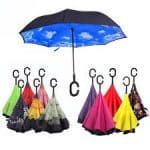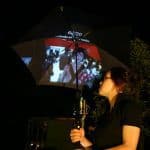 Umbrellas, parasols, bumbershoots, brollys, parapluie – you may hear any of those in reference to the "umbrella." We often think of Britain when we hear "bumbershoot," but in a Slate article, author Ben Yagoda notes that the Oxford English Dictionary identifies the term as "originally and chiefly U.S. slang." Brolly, however, is a British term for umbrella and parapluie is French. You may also hear the term "gamp" used for umbrella – it comes from the Charles Dickens character Mrs. Gamp who always carried an umbrella.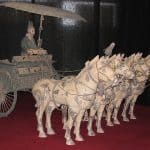 Umbrellas have been around a long time. There are written records referencing a collapsible umbrella in the year 21 AD and a Terracotta Army carriage from c. 210 BC had an umbrella fixed to the side.
Evidence of the existence of the umbrella has also been found in the Middle East, ancient Egypt, ancient Greece, ancient Rome and ancient India. Some believe that umbrellas – probably made of palm leaves – date back to the earliest human civilization.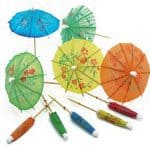 A parasol is generally used to provide shade from the sun and the umbrella is coated – often with Teflon – to protect from rain. In Japan, however, there are waterproof paper umbrellas, referred to as "Wagasa." These umbrellas are made by steeping strong Japanese paper in oil, making it waterproof!  The word 'umbrella' comes from the Latin word 'umbros,' which means shade or shadow. Umbrellas and parasols are not only associated with protection from the elements. They have been adopted and used in religious ceremonies and rites, as light reflectors in photography, and then there are the little drink umbrellas….
Umbrellas aren't just used for protection from the elements, they may also be used as security protection! French President Nicolas Sarkozy was the first to use a Kevlar-coated umbrella for security purposes. Offensively, the shaft may be used to hide a blade and in 1978, Bulagrian President Georgi Markov was assassinated by a KGB agent who carried a deadly poison in his modified umbrella!
There are many superstitions surrounding umbrellas – the most well-known, perhaps – never open an umbrella indoors. It is believed that superstition came from ancient times when umbrellas were used only by royalty and  "…designed to mimic the goddess who formed the sky, [so] their shade was sacred…" (How Stuff Works : Culture). That superstition also is sound advice – opening an umbrella indoors can be hazardous to people and/or fragile items that are in the vicinity… Studies have been done  about the ways in which people 'reverse' the bad luck. It is believed that rituals which involve the person performing an avoidance action – i.e. knocking on wood, throwing salt – are 'pushing away bad luck.'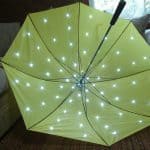 Interested in a DIY project? How about creating your own Electric Umbrella? Full instructions can be found here. To help you out, we have wire cutters and soldering guns in our Tool Library. Want to practice using LEDs and wearable tech before you tackle an umbrella? Check out the Lilypad – also available in our Tool Library! It has everything you need – battery, conductive thread, copper wire, switches, LEDs… You'll find the information on our Tool Library page under Creative Boxes!
Thank you to the University of Iowa Art Library for allowing us to display Hong Kong Umbrella in our exhibit. This beautiful book has full-color photographs of umbrellas in the streets and back alleys of Hong Kong. It also shows how, in 2014, a yellow umbrella became a symbol of protest when one was used as protection from pepper spray during a student protest.
This video is a fascinating look at how waterproof paper umbrellas are created!
Resources:
Cover photo credit:
Photo via GoodFreePhotos
Terracotta Army carriage with umbrella securely fixed to the side, from Qin Shihuang's tomb. c 210 BC
Some interesting Patents: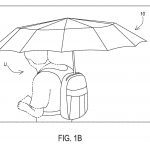 Backpack with an integrated umbrella device. Michael C. Weaver, inventor.  Publication Date: June 23, 2011.  US 20110147427 A1.
Mister-equipped umbrella system. Raj Rao, Inventor. Publication Date: Aug. 22, 2013. US 20130213446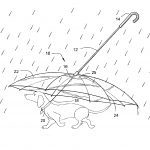 Pet umbrella and combined pet leash and umbrella. Irina Zhadan-Milligan, Yuri Zhadan, Inventors. Publication Date: March 29, 2005. US 20040200437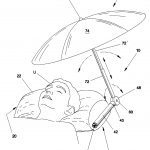 Pillow with retractable umbrella. Marielena Jane-Prats, Inventor. Publication Date: March 30, 2004. US 6711769
Resources:
Zhang, Y., Risen, J. L., & Hosey, C. (2014). Reversing one's fortune by pushing away bad luck.  Journal of Experimental Psychology. General, 143(3), 1171-1184.  PDF file of paper.
Tomlin, C M. 2010. The Truth About 8 Creepy Superstitions. National Geographic Kids, 15423042, Oct. 2010, Issue 404. Text available through University of Iowa Libraries InfoHawk+
Payne, Seamus. 2017. Dry-Tech: The 20 Coolest Umbrellas You'll Ever See. TheCoolList
Vitto, Laura. Jan. 7, 2017. Smart umbrella warns you when it's going to rain. Mashable Watercooler .
Yagoda, Ben. Cheerio, Bumbershoot! The word is not actually British for Umbrella. Nov. 4, 2011.  Slate: The Good Word
Grigsby, Jean. June 15, 2015. Don't Forget Your Brolly! Umbrella History and Facts. Farmers' Almanac.
Umbrella Facts. Dollys Brollys. Date Accessed: April 6, 2017
16 fun facts about the humble umbrella. JollyBrolly July 31, 2015.
Dove, Laurie L. Why are people afraid to open an umbrella indoors?  How Stuff Works : Culture Date Accessed: April 10, 2017
Enjoy rainy days with a Japanese umbrella. March 2013.  Japan Monthly Web Magazine.
sockmaster. Electric Umbrella. Instructables. Date Accessed April 14, 2017
Other Resources:
These Japanese Umbrellas Reveal Hidden Patterns When Wet. boredpanda Date Accessed: April 6, 2017.
Vyse, Stuart A. 1997. Believing in magic : the psychology of superstition. New York : Oxford University Press.  Hardin Library for the Health Sciences BF1775 .V97 1997