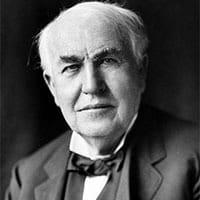 We  have a brand new exhibit honoring Thomas Edison's 169th Birthday!
Thomas Alva Edison was born February 11, 1847 and died October 18, 1931 at the age of 84. Even though his primary school teacher, Rev. G.B. Engle, believed him to be "addled," Edison went on to be awarded 1,093 U.S. Patents. When his foreign patents are included, he was received a total of 2,332! Our new display honoring him highlights some of those inventions.
To say he was creative and inventive seems well, obvious. However, much of that comes from his ability to learn from his failures and re-use and refine ideas and machinery. This ability is summed up in this famous quote:
I haven't failed.

I've just found 10,000 ways that won't work.

— Thomas Edison
The fact that Edison and his team of researchers tested more than 3,000 designs for the light bulb between 1878 and 1880 is evidence of his persistence and ability to learn from his failures. In 1879 he filed for a patent for an electric lamp with a carbon filament. But even after the patent was awarded, he continued to test over 6,000 plants until it was discovered that a carbonized bamboo filament could burn for more that 1,200 hours.
It is reported that Edison's favorite invention was the phonograph. He developed a way to record sound on tinfoil-covered cylinders. The first thing that Edison recorded? "Mary had a little lamb!" He suggested there were many other uses for the phonograph, such as books for the blind music boxes and toys, and a connection with the telephone so messages could be recorded, So many are now reality!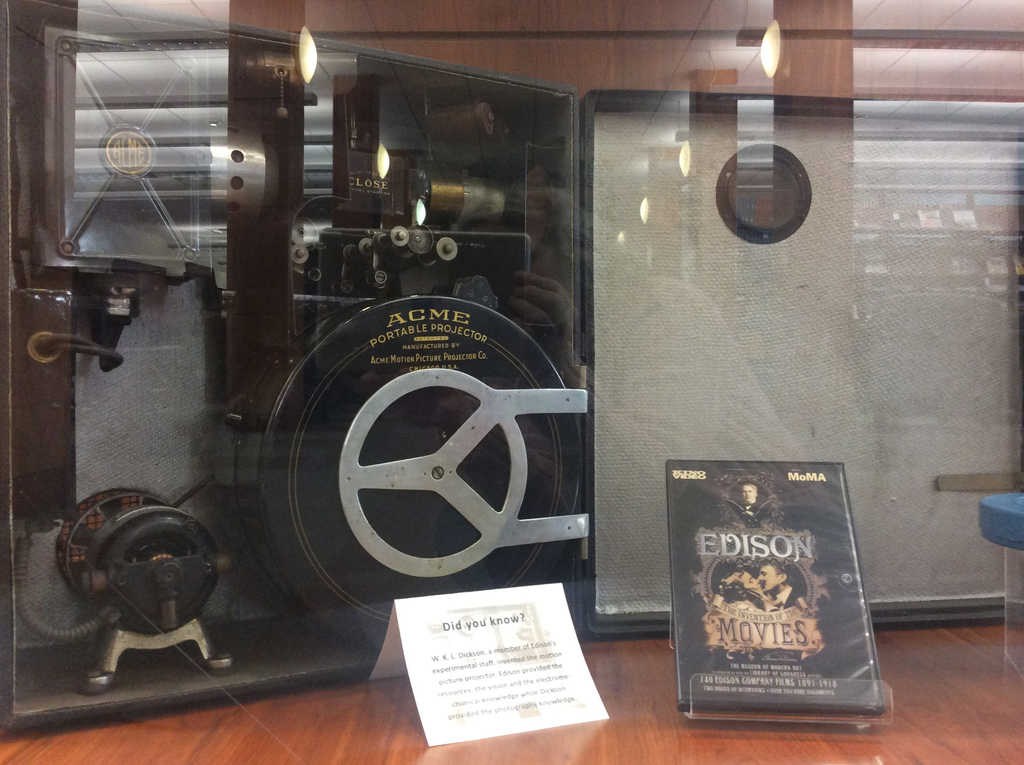 From 1888 to 1893 Edison worked with William Dickson on a motion picture camera. Edison always worked with very capable assistants, but this is the first really clear case where Edison took sole credit for a joint project. Dickson was a photographer and provided the photographic knowledge and Edison worked on the electromechanical parts. Edison and Dickson were only some of the many inventors who were working on motion pictures at the time but Edison is credited with introducing the first commercially viable system.
Even though the first projector used by the Edison film company was called the Edison Vitascope, Edison really didn't have much to do with projector technology. Edwin S. Porter, a former Edison Studios cameraman, directed The Great Train Robbery, in 1903. He used innovative techniques which included composite editing, location shooting, and cross cutting. And some, but not all, of the prints from The Great Train Robbery were hand colored. This was the also the first movie that presented a story and not short skits. The Great Train Robbery is now largely considered to be the first American action film.
The Great Train Robbery. youtube.com
Our thanks to The University of Iowa Libraries Special Collections for the loan of several books for this exhibit. Thanks also to The University of Iowa Libraries Main Media Collection for lending us a copy of The Great Train Robbery. The University of Iowa Department of Mechanical and Industrial Engineering donated the motion picture projector and the film reels. Our thanks to them, also. Their contributions are invaluable to the exhibit.
So stop by and see our latest exhibit!!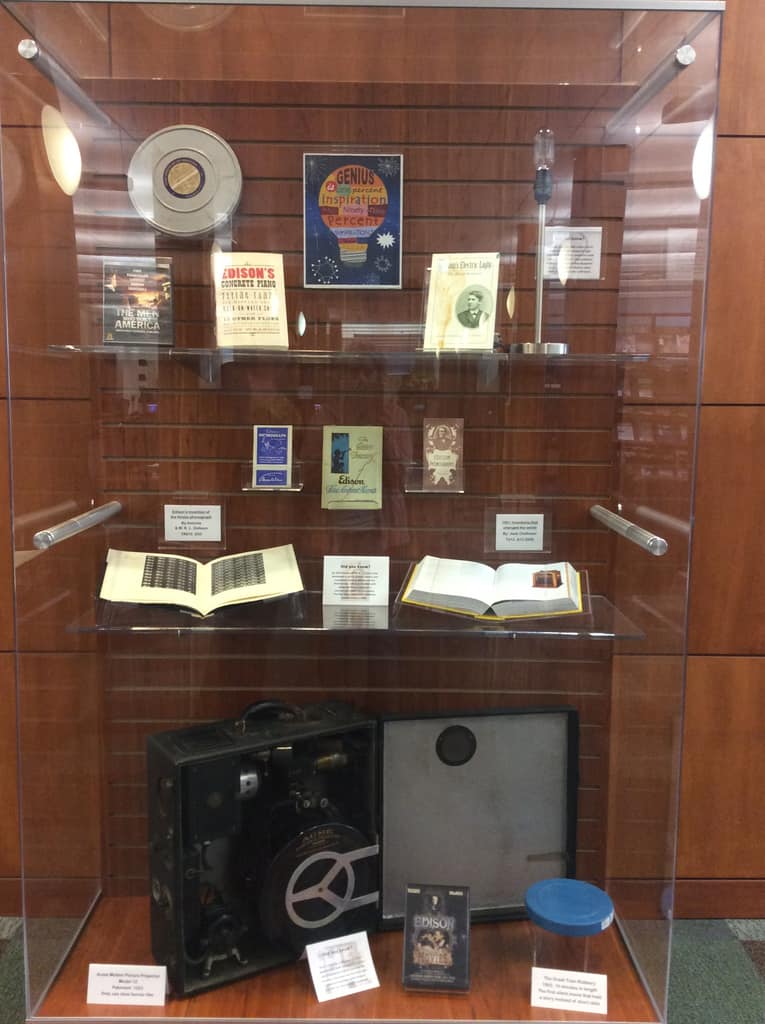 Interesting facts:
Edison had 3 children with his first wife, Mary Stillwell: Marion Estelle Edison was nicknamed 'Dot,' and Thomas Alva Edison, Jr. was nicknamed 'Dash.' The 3rd child, William Leslie Edison was also an inventor, but had no nickname…
Edison developed "foam concrete" which was used in building concrete homes. These homes were inexpensive, and easier to heat and cool. Ten of the 11 homes were still standing and occupied in 2009.
Edison also invented a 'spirit phone.' It was intended to open the lines of communications with the spirit world…
Resources:
Jonnes, Jill. 2003. Empires of light: Edison, Tesla, Westinghouse, and the race to electrify the world. New York : Random House. Engineering Library TK18 .J66 2003.
After a Schoolteacher Called Thomas Edison "Addled,"….  TurthOrFiction.com Accessed Jan. 12, 2016.
Edison's concrete piano : flying tanks, six-nippled sheep, walk-on-water shoes, and 12 other flops from great inventors. 2009. Toronto : ECW Press. Engineering Library T47 .W42 2009.
10 Inventions by Thomas Edison (That You've Never Heard Of).  HowStuffWorks. Accessed January 13, 2016.
Motion Pictures. February 20, 2012. The Thomas Edison Papers. Rutgers.
The Great Train Robbery. youtube. Accessed January 13, 2016
The Great Train Robbery (1903 Film). Jan. 24, 2016. Wikipedia.
Edison Invents the Phonograph. America's Story from America's Library. The Library of Congress. Date accessed Jan. 28, 2016.
Other Resources:
The Papers of Thomas A. Edison. October, 13, 2015. Rutgers.
Who Invented the Light Bulb? Palermo, Elizabeth. Feb. 15, 2014. livescience.com
Thomas Edison's Most Famous Inventions. 2014. Edison Innovation Foundation.
Filmsite Movie Review: The Great Train Robbery (1903).  2016. AMC Networks.