The following is written by graduate student worker Emily Schartz
As we get ready for warmer weather and summer vacation, we look longingly at a group of travelers 90 years ago who were preparing to start a 137 day-long worldwide cruise on their own vacation to much warmer places.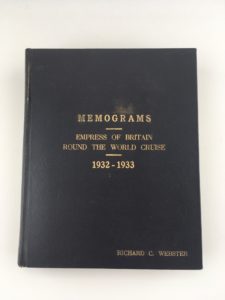 This epic vacation is recorded in a book now found in Special Collections & Archives. This book is a bound collection of colorful memograms, created during the Empress of Britain's Round the World Cruise. The memograms were created while the ship was at sea and distributed to the travelers on board. A bound copy, like this one, could then be purchased at the end of the trip as a souvenir. Read together these memograms create a "pictorial record" of the crew and travelers' "journey around the world."
The 1932 cruise featured in this particular book was the 10th annual cruise by Canadian Pacific and the second completed by the Empress of Britain liner. Around 300 cruisers left aboard the ship on Saturday, December 3, 1932 at "noon sharp" and would not finish their cruise until April 19, 1933, when they arrived back at Cherbourg and Southampton. Over the course of their journey, the Empress of Britain would cover 30,000 miles, stopping in 81 ports across 23 countries. Truly a world-wide cruise.
Each memogram is a colorful sheet with information and illustrations for the travelers and they cover a variety of topics. There are maps and itineraries for travelers to use when planning their day-to-day excursions, information about the places they were visiting and their cultures, and posters for ship-wide events, such as a treasure hunt and a Christmas party. The level of detail in the sketches varies from page to page, some are barely more than stick figure cartoons, while others are detailed drawings of specific locations. Many of the memograms within this particular copy show signs of their use. Some are folded as if they were slipped into a pocket or have notes in the margins and sketched out additions to the maps. Some additions are a mystery, such as the bold line added to a map of Palestine helpfully labeled "FISH."
The memograms are as diverse as the activities the travelers participated in. Listed on the calendar pages are sightseeing excursions, educational lectures, concerts, and dinners with dancing aboard the boat in the evening. There are also pages that depict anecdotes and "remember when" moments from the cruise.
There is a whole page dedicated to bananas from the ship's time in Ceylon and another page devoted to the "Tropical Fruits of Java" that mentions fruits that definitely don't grow in Iowa, such as doekoes and mangoesteens.
The Empress of Britain continued her annual cruises until 1939 and eventually ended her career when the liner was sunk in an attack by German forces in 1940 while being used for wartime service as a transport vessel. She certainly left behind a legacy, carrying hundreds of travelers on trips around the globe.
Sources:
By PERCIVAL KNAUTH Wireless to THE NEW YORK TIMES. "EMPRESS OF BRITAIN REPORTED BOMBED: FORMER CANADIAN PACIFIC LINER REPORTED SUNK BY BERLIN." New York Times, Oct 27, 1940, pp. 1. ProQuest, https://www.proquest.com/historical-newspapers/empress-britain-reported-bombed/docview/105285677/se-2?accountid=14663.
"New Empress of Britain Sails Friday on Maiden Trip." New York Times, Apr 18, 1956, pp. 62. ProQuest, https://www.proquest.com/historical-newspapers/new-empress-britain-sails-friday-on-maiden-trip/docview/113884909/se-2?accountid=14663.
Special Cable to THE NEW YORK TIMES. "BRITISH ANNOUNCE EMPRESS SHIP LOSS: ADMIRALTY FIXES DEATH TOLL AT 45 OUT OF 643 ABOARD CANADIAN PACIFIC LINER TORPEDOES FINISH JOB U-BOAT OVERTAKES BURNING SHIP IN TOW AND COMPLETES TASK STARTED BY BOMBER SHIP ATTACKED THREE TIMES WOMEN AND CHILDREN CALM." New York Times, Oct 29, 1940, pp. 11. ProQuest, https://www.proquest.com/historical-newspapers/british-announce-empress-ship-loss/docview/105415046/se-2?accountid=14663.
"WORLD CRUISE STARTS WITH NOTABLES TODAY: EARL OF CADOGAN AND PRINCESS DE LIGNE AMONG PASSENGERS WHOM SHAW WILL JOIN LATER." New York Times, Dec 03, 1932, pp. 14. ProQuest, https://www.proquest.com/historical-newspapers/world-cruise-starts-with-notables-today/docview/99789304/se-2?accountid=14663.