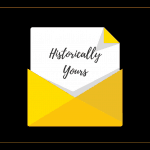 Historically Yours is brought to you by the wacky folks who wander in and out of the University of Iowa Special Collections. Your host is Colleen Theisen, today's guest is Liz Riordan.
Our theme music was composed by Will Riordan.
Download this episode (right click and save)
(Subscribe on Podbean, iTunes, or Pocket Casts. Let us know where we should syndicate.)
Do you know anything about the letter from today's episode? About the clipping mentioned in blue pencil on the letter? About the Park Theater or Mr. Smith?
Write to us!
Historically Yours
c/o Colleen Theisen
University of Iowa Special Collections
100 Main Library
Iowa City, IA 52242
Letter from this episode:
Lawrence Barrett to James H. Smith Esq.
September 26, 1873.
MsL B274