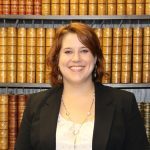 The fourth episode of Historically Yours is here and this time we're joined by School of Library and Information graduate student Elizabeth Riordan.
Liz reads a poem from Helen Keller from the Peggy LeBold Autograph Collection. Was this a letter? A school assignment? She follows up by reading a letter from Keller to St. Nicholas magazine describing her writing process.
Know anything more about this poem? Type in the comments, email us colleen-theisen@uiowa.edu or write to us:
Colleen Theisen
Special Collections
100 Main Library
Iowa City, IA 52242
Whate'er we love becomes of us a part,
The center of all tributary powers,
Our life is fed from
nature's throbbing heart
and of her best
the fibre and growth is ours.
Helen Keller
Cambridge
April 29, 1902
This episode was made possible by the Conservation Lab here at the University of Iowa who took this shattered letter and made it whole again.
Credits:
Host: Colleen Theisen
Guest: Elizabeth Riordan
Letter: Peggy LeBold Autograph Collection MsC1052 http://aspace.lib.uiowa.edu/repositories/2/resources/2685 – Poem from Helen Keller
Theme Music – "Handwritten Letters" by Will Riordan
Editing: Farah Boules