The following is written by Asian Alumni and Student Oral History Project Intern Jin Chang
Since the start of the pandemic, prominent leaders have stood in front of crowds of American people calling COVID-19 the "China Virus" and "Kung Flu." As a result, Chinatown businesses closed as tourists continued to avoid Chinatowns across America and racially charged attacks increased against Asian elders, including a mass shooting in Atlanta specifically targeting Asian Women in the massage industry. Unfortunately, all these moments had precedents in the past. The Chinese Exclusion Acts of 1882, which barred the Chinese from immigrating to America, was one of many policies motivated by Yellow Peril, a racist characterization for the fear of Asian people. This racist belief that East Asia and their people pose an existential threat to America influences the belief that Chinatowns are a uniquely dangerous spot of disease. Before COVID-19, Chinatown and Chinese people were blamed by many Americans for smallpox and cholera in the late 1800's, the bubonic plague in the early 1900's, and the SARS epidemic as recently as 2003. For the direct violence against Asians in America many of the wars in Twentieth Century American history have been against Asian countries, teaching Americans to view Asians as the enemy.
This longstanding history of Sinophobia, anti-Chinese sentiment, and the belief in Yellow Peril reveals the racism following COVID-19 is not some bizarre aberration. It is America's history. While many of these notable early instances of racism against Asian people came from areas with heavy Asian populations such as California, Asian and Asian Americans have long lived in Iowa, and the population continues to grow in the present. As a Korean-American myself, I believe our experiences with navigating race and racism here in Iowa follows national trends, but I also believe there are many unique elements that come from reconciling race and racism as an Asian or Asian American in Iowa that is missing from the national discourses of today.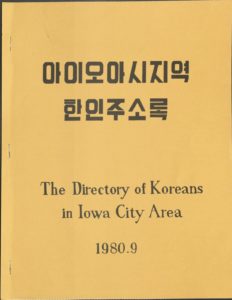 For the University of Iowa specifically, we are lucky to have the Asian Pacific American Cultural Center (APACC) as a space of community, healing, and empowerment for Asian Americans in the University. However, APACC began in 2003, and Asian and Asian Americans have long been forming communities in the University of Iowa. One group established in 1999, the Asian-American Coalition, served as a consolidated voice for many Asian Americans, and as one of the leading voices in the founding of APACC. Another group, the Asian American Women's Group sought to address the specific needs of Asian American Women and predates the Asian American Coalition as it was established in 1993. Prior to the 1990s, many Asian international student groups existed on campus such as the Korean Student Association, the Association of Southeast Asian Nations, and PERMIAS an Indonesian Student Association.
Many of these student groups are underrepresented in the University Archives. The lifecycle of student organizations also means that new iterations exist on our campus to serve Asian and Asian American students today, making it a challenge to capture organizations that have come and gone. While collecting materials from Asian and Asian American groups' is a priority for the University Archives, the Special Collections & Archives team has also recognized the importance of collecting the stories of communities through oral history. Thus, over the course of the next year, the University Archives will be collecting oral histories of Asian and Asian American students and alumni from the University of Iowa. By capturing our stories and narratives through oral history, we have an opportunity to have our histories recognized and to create a genealogy for future Asian and Asian American students here at the University of Iowa.
If you wish to have your story included in the oral history archive, please contact Jin Chang at jin-chang@uiowa.edu.