"From the Classroom" is a series that features some of the great work and research from students who visit our collections. Below is a blog by Abbie Steuhm from Dr. Jennifer Burek Pierce's class "Reading Culture History & Research in Media" (SLIS:5600:0001).
Private Catholic: Zines for Catholic School Kids
By Abbie Steuhm
In the U.S. education system, private schools are unique as scholarly institutions that stand outside of government funding and therefore government regulations. Catholic private schools in particular mix religion and education for young students. While there is a lot of debate around these schools, we find ourselves knowing little about the stories and thoughts of the students themselves who attend. However, some of these stories are told within the minor-league zine Private Catholic found within the Sarah and Jen Wolfe Zines Collection (MsC0878) held in the University of Iowa's Special Collections & Archives.
"Zines" are handmade booklets self-published by a variety of people, usually members of alternative subcultures. Due to the accessibility of self-publishing and lack of mainstream censorship, many zines detail deeply personal experiences relating to issues of misogyny, classism, racism, anarchism, and empowerment. This makes zines rather difficult to collect and showcase to a wide audience, since these stories were meant to be seen by a small group of collectors and self-publishers instead of an entire academic institution. However, the University of Iowa Libraries staff—many of whom are part of the zine subculture—are dedicated to preserving this small history. This allows stories from unheard voices like Catholic students to be read and experienced by researchers today.
The unnamed creator of the Private Catholic zine gave their personal statement in the first issue, starting with an all-caps statement "OK, LET'S BOND." They continue by saying they had "originally intended this zine to be a handbook… for poor souls like me who are stuck in Private Catholic school—and trust me, it is HELL" (Private Catholic, no. 1). While the average reader may take this statement as an intense dislike for private Catholic schools, the author explicitly states in issue two how they are "not decidedly for or against Private Catholic schools… They can be pretty cool (uniform means you don't have to worry what to wear), etc." Private Catholic allows teenage Catholic school-goers a place to vent their frustrations and air some outrageous stories. For example, underneath the "True Stories" section of the zine's first edition, someone named Gina tells her single-sentence story of how she received detention for, quote, "being bad at volleyball."
Private Catholic earns its place within the zine subculture as it details narratives that go against the strict grain of private Catholic schools. In the first issue, one contributor talks about how the spelling book Wordly Wise "introduces and incorporates alternative philosophies and lifestyles" besides an image of Alice from Alice in Wonderland surrounded by definitions of various words such as "anarchy" and "funeral." Within the same issue, a two-page spread of cut-and-paste pictures from popular magazines displays various images of girls posing in Catholic school uniforms. The commentary on these pages tells how those magazines were selling the look of a Catholic school girl as "sexy, alternative" despite how students were conforming to authoritarian standards with those uniforms.
Both current and former students cognizant and articulate difficult topics that even adults find trouble voicing at times. This is the reason zines deserve their space within Special Collections & Archives; the original, unedited thoughts of underrepresented groups, minorities, and the youth of the past are scissored, glued and typed in various, abstract ways into self-published magazines, a feat worthy of preservation and admiration from fellow students who made their way from Catholic school to public university.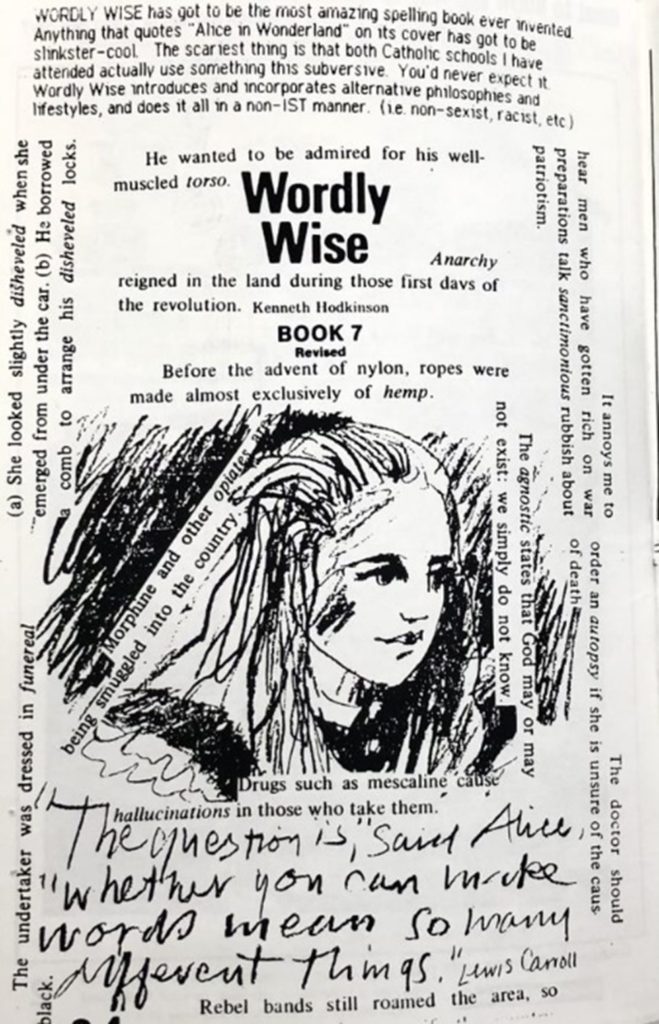 Further Reading:
Girl Zines: Making Media, Doing Feminism by Alison Piepmeier (2009)
Stolen Sharpie Revolution by Alex Wrekk (2014)
Notes from Underground: Zines and the Politics of Alternative Culture by Stephen Duncombe (1997)