The following is written by Humanities for the Public Good Intern Patrick Johnson
Tom Brokaw is a name synonymous with journalism, and the journalism that many strive for. His career spans decades and his resume includes trips across several continents and countries, meetings with some of the most famous and infamous world leaders and covering some of the most well-known sporting events in American and world history. He even can say that he was at the Royal Wedding that was watched by more than 750,000 million people around the world.
Beyond the hours of television appearances and bylines, there are unique ways in which we can come to learn and know about Brokaw's impressive list of journalistic endeavors. The Brokaw collection, located in the University of Iowa Libraries Special Collections & Archives, is one of those places where viewers can get a glimpse into the history of the world according to the accounts of one of America's greatest journalistic icons. The collection itself includes artifacts,
correspondences, events, speeches, commentary, writings, awards, and so much more. The collection, known as The Papers of Tom Brokaw: A Life and Career, was donated to the University of Iowa by Brokaw. According to Emily Nelson in an IowaNow post, Brokaw's time at Iowa ("where he attended the UI during his first year of college, from 1958-59″) led to these artifacts calling the land of the Hawkeyes home in 2016.
While the collection includes a significant number of items, one of the most important to a journalist, but relatively unknown or unimportant to others, are the extensive amount of press passes spanning Brokaw's career.
That's where I come in.
I am the fortunate one that gets to work with his passes thanks to my role as a fellow for the Humanities for the Public Good through the Obermann Center for Advanced Studies. My role as an intern with Special Collections & Archives, working directly with Liz Riordan (who curated and cultivated the collection as a School of Library and Information Science graduate student at the UI), the department's Outreach and Engagement Librarian, is to immerse myself into the history of these significant material objects. The hopeful outcome: an interactive timeline that can be used as an educational tool.
Setting a Goal
The timeline that will come from this summer's work is intended to be used for educational purposes, whether it is in classrooms or for research. We hope that what users will get out of this is an ability to interact with primary sources, see history through the lens of a journalist and recognize the role journalism plays in the telling of history.
Across the country, teachers are looking to utilize primary sources to teach students how to read and understand history. Teaching with primary sources is a requirement of the Common Core State Standards. The College Board utilizes primary sources to assess students on Advanced Placement exams. Being able to provide a place where students and teachers can see primary sources in action and being used for the purpose of learning is key to this project.
It is also important to recognize and showcase the intricate intersection of journalism and history. This project intends to show just that. Brokaw's history as a journalist, and his press passes he used for the events he covered and participated in, represents a unique perspective on world history. He is attached to some of the most significant events and people. And the stories he told helped write the history we study. But, what's unique about this project is that the press passes he used also tell that story. They just do so in a way that is unfamiliar to many. By reading his press passes and seeing where they belong, one can truly see history through the lens of a visual. This project attempts to do just that.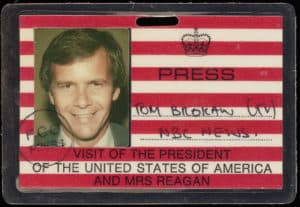 The Passes
Thus far in the project, I've catalogued all of Brokaw's press passes in the collection. I built a searchable database to hold several pieces of information associated with the project, including the press passes themselves. The database serves as a place for collaboration among a number of us working on this project, as well as a log for deadlines, questions and ideas. The timeline will include around 150 passes, from nearly 500 different files. They include Presidential trips, sporting and pop culture events and points of war. The passes are diverse and historical. They are both unique and shared. They are history.
At this moment in the project, the fanboy in me is entirely satisfied. Brokaw's book Boom is what inspired me to be a journalism teacher, which in turn brought me to the place I am today. In getting to read and see his press passes, I feel that I am reliving history through Brokaw's eyes. I'm getting to immerse myself into Nixon's resignation, the return of Billie Jean King, the election of a number of presidents, several Olympics and a celebrity ski event. The world of history is coming alive each and every day I interact with Brokaw's passes, and I cannot wait for you all to experience them as well.
The Hopeful Future: An Appendix to Brokaw's History
Journalism is seen as the first draft of history. It is through journalistic works that we often come to know and learn about the world and the people around us. Journalism defines our collective memory. What Brokaw did was tell a draft of history that defined a generation. In some respects, I hope this project can serve as a second draft—a history of a history.
While I'm certainly not looking to tell Brokaw's story, or even the history of the world, through this project, it can and should serve as an opportunity to see how journalism, and its material objects, can help us more deeply understand who we were, who we are and who we may become. Brokaw's career wrote history for the masses; my job now is to help show that. This isn't a revision or an edit of his history, but an appendix to develop that history further.