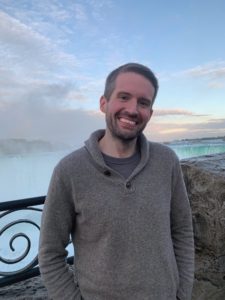 On December 28th, 2020, Dr. Eric Ensley will join Special Collections as Curator of Books and Maps. Ensley earned his MSLS from UNC before going on to earn an MA in English from NCSU, then an MA, M.Phil., and PhD in English from Yale. While at Yale, he worked in the Beinecke Library as a Curatorial Assistant to the Curator of Early Books and as a Medieval Manuscripts Cataloging Assistant from 2016-2020, served as Program Director for the Digital Editing & the Medieval Manuscript TEI/XML Workshop starting in 2017, and in addition to other classes, served as Instructor of Record for "What is a book?". His research interests cover the History of the Book, Librarianship, Manuscript Studies, Early Modern Print Culture, Digital Humanities, and Appalachian Studies.
"I'm most looking forward to welcoming students from a variety of backgrounds to work with our special collections," says Ensley. "I believe that we can tell powerful stories about who we are through the history of books and manuscripts, and I look forward to hearing what stories students, faculty, and colleagues will tell with our collections. I'm particularly thrilled to learn how our collections speak to the lived experiences and histories of students from Iowa and further afield. Our collections allow us to talk about and even touch history, from pre-modern materials to our contemporary moment, and I can't wait to help to make these collections accessible."
In his spare time you can find him in the kitchen cooking or baking. "I grew up working alongside my grandmother in the kitchen, and she taught me the foundations of Appalachian cooking, which has sparked a lifelong love of food." Just wait till he gets a hold of the Szathmary Culinary Collection here at the University of Iowa. This is Ensley's first time living in the Midwest and he has expressed excitement in learning more about the local foodways and recipe traditions in Iowa.*
*His new coworkers are wondering how long to wait before they tell him all about the Butter Cow and the wonders of the Iowa State Fair.