The following post comes from Olson Graduate Assistant Rachel Miller-Haughton.
Political cartoons are more fraught and relevant today than ever. The New York Times ended their political cartoons in July 2019, after they pulled an image that was widely perceived as anti-Semitic. Other publications have gone the same way in order to be perceived as more serious, or less controversial. At the same time, cartoonists and their supporters write about the loss of the visual medium. Patrick Chappatte, a New York Times political cartoonist, says, "Political cartoons were born with democracy. And they are challenged when freedom is." No matter whether you like them or not, the impact of political cartoons cannot be denied. The most extreme example of this in recent memory are the attacks on the offices and contributors to French magazine Charlie Hebdo in response to their portrayal of Islamic prophet Muhammad. The response to a political cartoon, and subsequent conversations over free speech, is something that has colored our understanding of what they look like.
Almost 100 years ago, a cartoonist was illustrating his view of the current election. Jay N. "Ding" Darling was a cartoonist who spent much of his life in Sioux City, Iowa, and spent most of his career at the Des Moines Register. Born in 1876, he won the Pulitzer Prize in 1924 and 1942. He was disillusioned with many of the political groups he worked with, but his life's passion was wildlife conservation. The University of Iowa Libraries now holds many of his works. The "Ding" Darling Papers in Special Collections are a large group of the political cartoons the artist was best known for, as well as other art forms he created over the span of his life. Two images from the 1924 election stand out, even today. That year, Calvin Coolidge, the Republican candidate, won, helped by a divide in the Democratic party where many liberal Democrats left the party and backed third-party Wisconsin Senator, throwing the majority of the rest of the votes to Coolidge. A three-party election with a divided majority party was highly contentious.
The first image is captioned, "The citizens will now go forth and vote their calm, dispassionate judgement." It features two voters clutching their ballot, pursued by huge ballooning figures carrying signs saying, "campaign lies," "beware of chaos!" and "the government is run by a bunch of crooks," among others. Anyone who has spent a few minutes watching TV, or on social media, has been blasted by similar messages around the 2020 election. Darling shows us that voters in the early 1900s were obviously feeling a similar strain, albeit with different names ("red peril" from the newly formed Soviet Union is reflected now as Russian cyber agitation).
The second cartoon, also from 1924, says "It's a wonder there aren't more serious accidents" and is commentary about nonvoters. Meant to either galvanize or shame "non voting voters" to be more like "the small percent who take their voting duty seriously," it is certainly interesting to reflect on today. Already, the 2020 voter turnout is breaking records. Darling hoped this piece would encourage those who were able, and had the right, to vote, while also telling those who didn't they don't get to complain about "the gov't machinery." This may have been his way of encouraging participation in democracy.
The 2020 election is weighing on all our minds as Americans. Looking in Special Collections, it is almost comforting (albeit frustrating) to look back at history and know this is not the first time we've felt bombarded by groups telling us how to vote. Political cartoons have always done a good job of showing us what is important, and cutting through the noise of words with a single image. Who we listen to is up to us. But the importance of voting, although portrayed in a humorous manner by Darling, is no less pressing today than it was in 1924.
---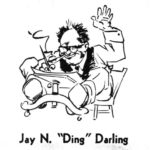 For more information on "Ding" Darling, check out the "Ding" Darling Wildlife Society