"From the Classroom" is a series that features some of the great work and research from students who visit our collections. Below is a blog by Jacob Roosa from Dr. Jennifer Burek Pierce's class "History of Readers and Reading" (SLIS:5600:0EXW)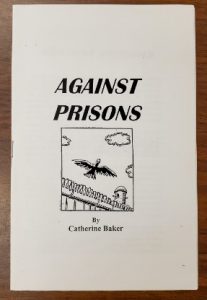 Steal This Zine!
By Jacob Roosa
No, really, steal this zine.
Examples of anti-copyright notices abound in the history of anarchist publishing, and Catherine Baker's Against Prisons (Firestarter Press, n.d.) from the Special Collections' Public Space ONE (PS1) zine collection is no exception. Mixing political statement with political practice, this notice and many others like it permit any reader to take "every text, every picture, every sound" from the book to use how they wish. Not only does this ease the distribution and reproduction of these pamphlets and zines, it gives the reader a space to consider the history of copyright in the U.S. and recognize the possibility of a publishing space outside its bounds.
This zine preaches what it practices, asking the reader to journey outside the U.S.'s deep, centuries-long commitment to prisons to imagine life in which people are not forced to surrender their capacity to resolve interpersonal conflict and violence. Baker, a prison abolitionist, interrogates the way in which our justice system, and really our conception of objective Justice, determines the guilt or innocence of an individual on our behalf. They argue that we are constructed entirely as "murderer, journalist, woman, bandit, child, etc…" by this process, abstracted to the point where we have no agency in how we conceive of ourselves or others. For Baker, the point of rejecting this process is to recognize how it denies all of us, in and outside of prisons, the space to reckon with our lives and our relationships to other people.
"We do not want isolation; this goes without saying, otherwise what would we be doing here? We want to think with others about ways of living with others outside pre-existing systems."
If this kind of thinking with others interests you, the PS1 zine collection has you covered! Donated in 2010 by the folks at Iowa City's own Public Space ONE, this three-box collection contains around 200 zines, pamphlets, journals, and books, covering topics from anarchism to anti-capitalism, bike repair, youth activism, prisoners' experiences, feminist theory and practice, race and anti-authoritarianism, and histories of U.S. imperialism, among others. Some of these materials were made with the intention of being freely distributed, and, much like Baker's text, some actively encouraged readers to reproduce and proliferate their text. Copyright law in the U.S. is very complex and tricky, so always be sure to research whether or not you're safe to reproduce, manipulate, or distribute any given material before you do so, as it is your legal responsibility (for more information on the University of Iowa Special Collections' rights, permissions, and copyright policies, please visit their website or contact a librarian). Zines like Against Prisons are invested in educating readers about the histories of familiar institutions, so discover more at Special Collections!