Through some great research, our University Archivist David McCartney discovers some of the "unknown" facts that are part of new UI Presidential Portrait Gallery in the Main Library, as he explains below.
When the UI Presidential Portrait Gallery was formally dedicated late last year, staff in Special Collections responsible for this display knew that there were still some 'gaps' in some of the portraits' stories. For example, labels accompanying some of the displayed portraits note that the artist is unknown. But as we continue to learn more of the history of this collection and how it came into being, we update and correct our records – and labels – as needed.
The George Thacher portrait is a case in point. Thacher (1817-1878) was the University's fifth president, serving from 1871 to 1877. His portrait is an oil-on-canvas, dark in tone and realistic, a style appropriate for the late nineteenth century. The artist's name was somehow lost in the records as the portrait, along with others in the collection, moved from one campus location to another for nearly a century, until settling in the Main Library.
Well, now we can fill in this gap. Recently, a closer examination of the portrait revealed a nearly-obscured name in the lower left corner: "E.D. Hale." The signature is difficult but not impossible to ascertain. From this, we were able to confirm via an internet search that the artist was Ellen Day Hale (1855-1940). Our sources for this include the Smithsonian Archives of American Art and an entry on American Gallery online.
According to the National Museum of Women in the Arts, Ellen Day Hale was "among the wave of American artists, both men and women, who traveled to Europe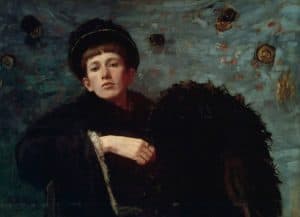 for training in the last quarter of the 19th century. She is best known for her Impressionist figure studies. Hale, the only daughter of the noted orator and author Edward Everett Hale and Emily Baldwin Perkins, came from a family filled with notable figures. Her great-great-uncle Nathan Hale was a Revolutionary War patriot; her great-aunt Harriet Beecher Stowe wrote Uncle Tom's Cabin; and her brother Philip and his wife Lilian Westcott Hale were also professional painters."
The Boston Art Club was the setting for the first exhibition of her work in 1876. Because both she and George Thacher were from New England, we can speculate that the portrait was completed during the last one or two years of his life, after he left Iowa to return to the northeast to be close to family in light of illness. Hale was perhaps in her early twenties when she completed the portrait, likely one of the first works of a long and distinguished career. She was also the first woman to produce a presidential portrait for the university.
View the portrait gallery online or view in person on the Main Library's fifth floor.