The University of Iowa Libr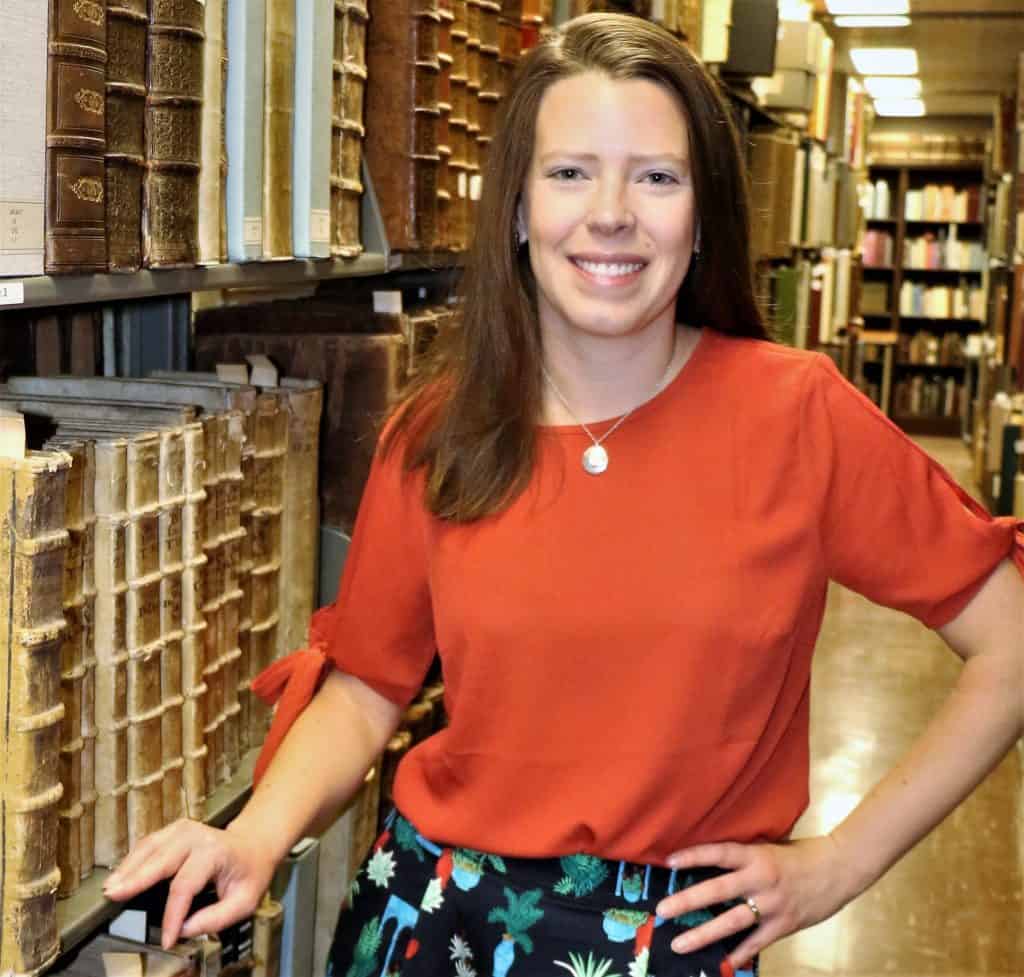 aries is delighted to announce Margaret Gamm as the new Head of Special Collections. She replaces Greg Prickman, who leaves on July 2 to become the Eric Weinmann Librarian and Director of Collections at the Folger Shakespeare Library after serving as Head of Special Collections since 2011.
Gamm joined the UI Libraries in 2013 as the Special Collections Librarian in the Map Collection. In 2014 she was appointed Acquisition and Collection Management Librarian for Special Collections, and this past year served as Assistant Head of Special Collections.
Gamm arrived at the University of Iowa having interned at the Smithsonian Institution Libraries and the University of Georgia Georgiana Collection, and served as a research assistant in the Rare Book Collection at the University of North Carolina, Chapel Hill. Over the past five years, she has overseen the acquisition of new materials, supervised staff, managed budgets, led the implementation of new software programs, and curated rare works–particularly medieval manuscripts, incunabula, cartographic works, and artists' books. Gamm has also worked to bring Special Collections further into the UI community, teaching sessions on book and cartographic history, working closely with donors, and devising new engagement opportunities for patrons.
"I am thrilled to begin my new role as Head of this incredible department that has accomplished so much," said Gamm. "We have a lot of momentum here in Special Collections that will carry us into the future, and I am so excited to lead us there. I am already looking forward to a busy year filled with new exhibits, visiting medieval manuscripts, the debut of an online patron registration system, and so much more."
As a dedicated and visionary librarian, Gamm maintains a staunch commitment to the evolving staffing needs of a 21st century Special Collections, as well as the dynamic spaces required to house and showcase the UI Libraries' remarkable holdings. Looking ahead she sees great potential for new collaborations across campus and within the Libraries to advance understandings of and access to these collections.
A 2010 graduate of the University of Georgia, Gamm majored in English and History, before obtaining her Master of Science in Library Science with a concentration in archives and records management at UNC-Chapel Hill. In 2015, Gamm was named a "Bright Young Librarian" by Fine Books & Collections magazine.
Special Collections is excited to see Gamm as the new head of the department and cannot wait to see what the next chapter will bring.