"What is special to you?"
Environmental activist and Beyond Dirty Fuels creator Bryan Parras presented this question during the final plenary at the Rare Books and Manuscripts Section (RBMS) conference in New Orleans. Despite the simplicity, I felt at a loss for a response. Sure, many things are important to me—family, education, my love for all things coffee—but with preservation, what is truly "special" to me? I left the plenary to ponder the query by wandering the colorful streets of the French Quarter.
I strolled under Bourbon Street's French and Spanish balconies, lost in the rhythms of jazz musicians. Performers lined the sidewalks: from Poets-for-Hire and human statues to bellowing singers and bucket drummers, the street was alive, despite the sweltering heat. The sights and sounds of the French Quarter were unlike anything I had ever experienced, and that's when it hit me. These individuals from various walks of life carry distinctive, stratified identities that are important to their past, present, and future.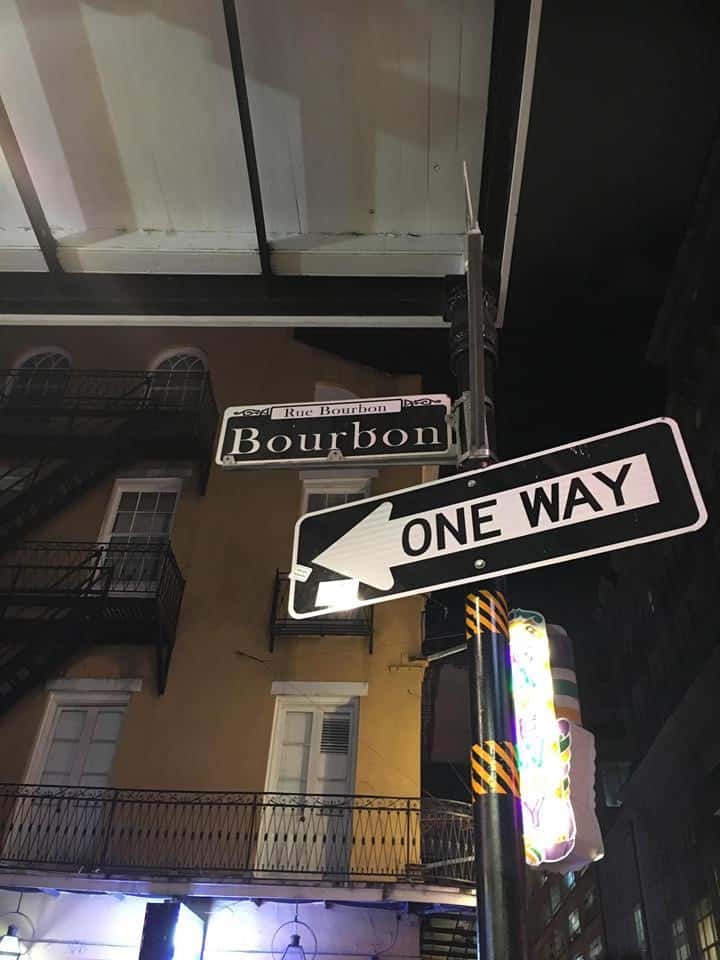 In a special collections or archive, I want to see my identities represented in the collections I am preserving, researching, and marveling. Several collections at The University of Iowa resonate with me because of my identities as a woman, a Mexican American, and a student. I am, however, well-aware that others do not have this equal advantage, nor the opportunity to engage with items in a special collections or archive. The supplemental panels, plenaries, and seminars at the RBMS conference extended the ways that I can assist in diversifying collections and the individuals that engage with them. RBMS made me increasingly more interested in how a special collections can contribute to constructions of self-identity and belonging.
This year's theme, Convergence, focused on "the idea of convergences and [spoke] directly to our field's preparedness for increasing environmental vulnerabilities on our facilities, our readiness for the inclusion of different people and cultures in what we collect, how we perform outreach and programming, and who we select to staff and lead our repositories…" (conference.rbms.info/2018/). The conference offered numerous speakers from a variety of backgrounds, interests, and practices speaking on the many collaborations within special collections.
I attended several sessions throughout the conference including presentations on diversity in the workplace, oral history projects, instruction, collection development, and outreach. The most helpful session for my research interest on equal representation in special collections included the panel "The Value of Diverse Collections: Changing Collections, Institutions, and Researchers" given by several archivists on their collection development projects. Laurinda Weisse from the University of Nebraska-Kearney discussed her recent oral history project with the local Latino/a communities and their previous silence within the archives. Dr. Francesca Marini and Professor Rebecca Hankins of Cushing Memorial Library and Archives presented on their collection of LGBTQ+ communities and how Texas A&M utilizes them in instruction and outreach initiatives. Lastly, Jessica Perkins Smith of Mississippi State University and Jasmaine Talley of the Amistad Research Center demonstrated how archivists can support the research and study of African American history by highlighting "hidden" collections through exhibits, social media, workshops, and instruction. This panel of presenters provided an open forum for discussing ideas in collection development with and within marginalized communities.
Moreover, most of the sessions I attended directly spoke to my previous research and interests in diversifying collections, users, and the people leading these collections. During the first plenary on workplace diversity, Ana M. Martinez of Boston College presented on an action plan to attract more candidates of color in higher education. Monika Rhue, Director of the James B. Duke Memorial Library, followed this presentation by recounting the lack of diversity within library workplaces despite the extensive work towards moving the needle. Audra Eagle Yun, Krystal Tribbett, Thuy Vo Dang, and Jimmy Zavala, all from the University of California-Irving, discussed how they incorporated and assessed their instruction services to students of Ethnic Studies courses. During a papers panel, I was amazed by the outreach initiative of the University of North Carolina at Chapel Hill and Inherit, a cultural heritage research organization. Their program titled Maya from the Margins connects the Mayan youth of North Carolina and Yucatan, Mexico with exploring their identities and heritage by using primary sources found in special collections. These sessions and many more centralized diversity and inclusion in the conversation. Critical analysis and constructive dialogue is needed in these types of conversations, and I believe that RBMS was an ideal environment for me to learn, speak confidently, and become further aware of the underrepresentation in libraries.
Beyond the eye-opening sessions, I also enjoyed how RBMS supports emerging librarians and graduate students by providing networking opportunities and informative introductions to RBMS/ACRL. As a new member, I had the opportunity to attend an orientation where I met current RBMS leaders and learned how to get more involved with the ACRL section. I also discussed employment, graduate research, and day-to-day experiences with fellow graduate students and new librarians during the Scholarship Recipient Breakfast. These opportunities created a welcoming environment for me as first-time attendee and allowed me to visualize myself as a continuing member of RBMS.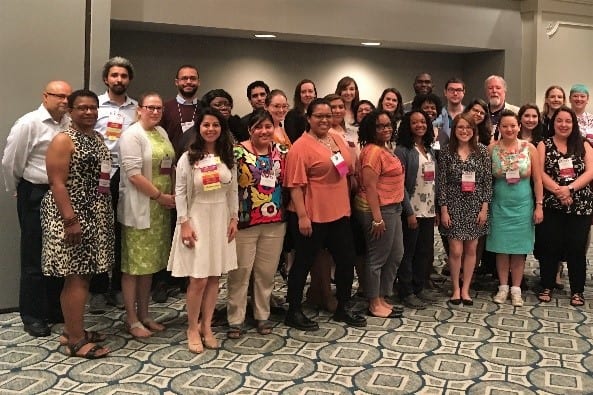 I left New Orleans with many take-aways, but two stick out most prominently. First, this conference reaffirmed that I belong in this profession. As an ethnically marginalized first-generation college student, it's been difficult to visualize myself working alongside others in my profession with significantly different, homogeneous backgrounds. However, Athena Jackson's closing remarks deeply affected my mindset. A Mexican-American herself, she noted to, "Look around" and know that people are rooting for me and here to support me in my endeavors. And second, our work is not just about books, it's about people. The unique, rare collections we house are meant to be shared, explored, and criticized. However, that can't happen without wider communities being a part of the process of our work. In environments traditionally set aside for academics, I hope that I will assist in building relationships with wider communities left out of the conversations in special collections and archives. This conference was indispensable to my future as a librarian, and I hope to return again in the future.
Relevant links:
RBMS 2018 conference: http://conference.rbms.info/2018/
RBMS website: http://rbms.info/