Instruction: Spring Semester Sign Up
Update from Instruction Librarian Amy Chen
Special Collections librarians can support any aspect of class planning for teaching with rare books and primary source materials.
We had a record-breaking 2015, so sign up early or else our rooms and librarians may already be booked for popular times. Find our class request form here.
---
New Acquisitions
Update from Acquisitions & Collections Management Librarian Margaret Gamm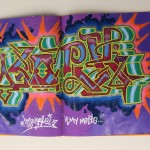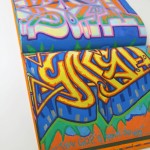 Pick Yourself Up From off the Ground by Cuba. One of a kind artist's book with acrylic graffiti paintings, 2014.
---
From the University Archives
Update from University Archivist David McCartney
A video paging through a 100+ year old scrapbook from a woman from the class of 1915 who attended the very first Homecoming football game.
---
Staff Awards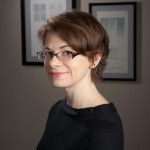 Special Collections Instruction Librarian Amy Chen was selected to be featured as a "Bright Young Librarian" by Fine Books & Collections Magazine. Read the feature here.
---
From the Web and Social Media
In Case You Missed It: A Compilation of Recent Links & Posts 
Blog post reporting on a research trip to Special Collections: Marbled Paper Connections by Emily Pazar.  See it here.
Article about the Brinton early film collection: 100 Years Later, New Audiences Discover Legendary Outsider.  See it here.
Center for the Book/Special Collections commercial that we filmed last August is finished and will air on the Big Ten Network.  Article: here  Video below:
---
Exhibitions
"The Humanity in History"
January 8th-March 1st, 2016
Kelly Grogg, graduate student in the School of Library and Information Science and Special Collections senior Olson Graduate Assistant, has completed her capstone exhibition. It is on display now in the cases outside Special Collections on the 3rd floor.
"Every person featured in this exhibit has contributed to make the world a better place.  They may not have ever reached the level of recognition they deserved, but despite their humble beginnings and oncoming obstacles, they contributed to the world in a way that cannot be measured in a 'neatly packaged, sanitized parable'.  These are the people who create history."  – Kelly Grogg  
---
Want to stay connected?  Follow us on social media: