News:
1. New Hours:
Responding to library use patterns, we will be shifting our evening hours when the fall semester begins. On August 25th, we will be open until 7 PM on Tuesdays and we will no longer open on Thursday nights.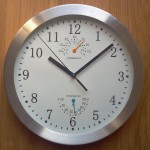 Our new hours are:
Mondays, Wednesdays, Thursdays, and Fridays: 8:30 AM – 5 PM
Tuesdays: 8:30 AM – 7 PM
2. Request Fall Class Sessions Now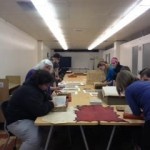 Classes are beginning to schedule their sessions at Special Collections for the fall.
To get your desired date and time, sign up soon using our request form.
3.  Save the Date:  First Iowa Bibliophiles Talk of the 2015-2016 Season  
6 pm on September 9, 2015, with refreshments at 5:30PM, just before the speaker.  More details will follow soon.
4. New Collection Guide Search Engine
Our collection guides may suddenly look a bit different that they did before. We officially have transitioned behind-the-scenes from an Archon-based interface to using ArchivesSpace to host our finding aids. ArchivesSpace is a new open source archives information management application for managing and providing web access to archives, manuscripts, and digital objects. The University of Iowa is one institution among a team of beta testers for this product.
Feel free to contact members of our staff if you need help navigating the program or if you have any other related questions.
5. Mobile Museum Visits the Iowa State Fair August 13-23
The University of Iowa's Mobile Museum will be at the State Fair all week.
Over Here From Over There: Iowans in World War II tells the story of Iowans during World War II. Nurses, Red Cross workers, and soldiers, as well as those who contributed to the war effort on the home front, are represented through letters, diaries, photographs, and artifacts from collections housed in the Iowa Women's Archives and Special Collections. One portion of the exhibition focuses on the wartime correspondence of Lloyd and Laura Davis, a Cedar Rapids couple who married in 1942. The Davises spent the first years of their marriage apart when Lloyd was drafted into the Army. He eventually served in both North Africa and Europe while Laura Davis, a social worker, spent the war years in Cedar Rapids helping to set up daycare centers for the children of working mothers.
The Mobile Museum can visit your community. Follow this link to submit your request.
6. Big Ten Network Commercial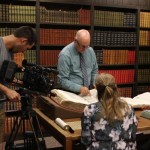 The Big Ten Network stopped by yesterday for a shoot for a commercial for the University of Iowa Center for the Book that will feature Special Collections materials and Greg Prickman, Head of Special Collections.  Watch for the commercial this fall during football games on the Big Ten Network!
Recently on the Web and Social Media:
1. Digitization
The Hevelin Collection Tumblr featured a post showing librarian Laura Hampton conduct the behind-the-scenes work to digitize the 1930s-1950s science fiction fanzines from the James L. "Rusty" Hevelin Science Fiction Collection.
See the post here.
2. Star Charts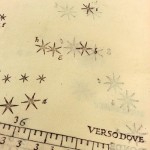 The UI Map Collection Tumblr recently featured our stunning 1548 copy of Alessandro Piccolomini's astronomical text, which is a continual favorite in classes and in the reading room for its impressive star charts.  See the post here.
De la sfera del mondo; libri qvattro in lingva toscana … De le stelle fisse; libro vno con le sve figvre e con le sve tauole … Venetia [N. de Bascarini] 1548.
New Acquisitions:
1.  University of Iowa Nursing Scrapbook c. 1913-1917
From the opening page with a handwritten poem "What Makes a Good Nurse," to the day-to-day ephemeral documentation of life at the hospital, such as baby onesies and memos, dance cards and graduation programs, this scrapbook documents life as a nursing student from 1913 to 1917 here at the University of Iowa. It is an incredible addition to the Iowa Women's Archives.
2. Sculptural Book Arts Piece from Daniel Essig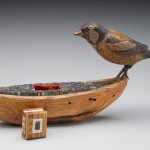 Responding to requests from multiple University of Iowa professors for a teaching example of sculptural books arts as well as for a contemporary example of work from the book artist Daniel Essig, we put the two together and acquired Sentinella by Daniel Essig, a sculpture made of Italian Olive, mahogany, milk paint, printers type, mica, thorns, as well as Ethiopian and Coptic bindings.
You can see a video of its arrival and box opening below.
https://vine.co/v/edHQXmahVVM
Want to stay connected?  Follow us on social media: