By Jacque Roethler, Manuscripts Processing Coordinator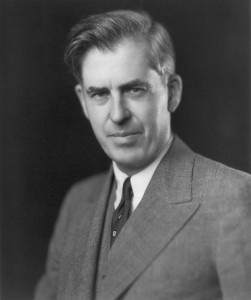 On the 50th anniversary of his death, we remember Henry Agard Wallace, the 33rd Vice-President of the United States, who was a man well ahead of his times. An idealist who experimented to the point of dilettantism, these avocations destroyed his political career, but he would not back down from them. An example of this is his quest for religious fulfillment, which led him to Native American spiritualism, Theosophy, and an odd spiritualism espoused by Nicholas Roerich. This last arguably cost him the Vice-Presidency. Another example is his early stand on racial integration, for which he had rotten tomatoes and eggs thrown on him on a tour of the south during his run for President in 1948. He would also, during this campaign tour, not stay at any hotel which would not accommodate blacks. He proposed making ethanol in the 1930s. He openly criticized the House Committee on Un-American Activities. And he was an advocate for peace. He thought we should share our atomic secrets with the Soviet Union. Since he narrowly missed being nominated for Vice-President in 1944 and succeeding to the Presidency eighty-two days later, who knows what might have happened? Maybe we could have side-stepped the Cold War internationally and the Red Scare at home. Or maybe we would be a Soviet Republic now.
Wallace also spoke Spanish and wanted a closer relationship between the Americas. While he was Vice-President, he travelled to Latin America and endeared himself to audiences by speaking to them in their native tongue.
This combination of peace promoter and advocate for Latin American ties comes together in an extraordinary document held by the Special Collections Department at the University of Iowa.  This is a letter signed by many luminaries in the Latin American World, including Pablo Neruda and Diego Rivera.
Apparently there was a conference for peace in Mexico City September 5-10, 1949, Congresso Continental Americano por la Paz, to which Wallace was invited. This would have been in the wake of the loss of his presidential run in the 1948 election. Unfortunately, this date coincided with a meeting of the Progressive Party, which was honoring Wallace, so he could not attend the peace conference in Mexico. He conveys only regrets and a statement about world peace in a cablegram sent on September 7. Characteristically, he does not tell them that he is being honored on the third anniversary of his speech at Madison Square Garden, "The Way to Peace." (CT: We have a copy of this speech and the cablegram sending his regrets.) A search of the internet uncovered two items. One is an image from the Ava Helen and Linus Pauling Papers, Oregon State University Libraries, which looks like the cover of a book of bylaws for the congress.  The other item is a linocut poster announcing the conference.
A rough translation of the letters is as follows:
We are told that the main reason you could not come to our Congress for peace in Mexico is that you are to attend on the 12th of September, a ceremony in which the Progressive Party of the United States in celebrating what you have accomplished in the last three years, which continue today with their best efforts.
We deeply regret your absence because your voice is among those of the greatest fighters for peace in this time. But the message that you send us comforts and encourages us to continue the struggles that this conference has started. Along with it we have other great voices of America with us. Supporters of peace multiply every day and will not rest until every person on the continent is a being determined not to go to any war or to support imperialist groups.
We want this message to reach your hands on the very day that the Progressive Party will express to you their affection. Our membership is strong and sincere. We have always believed that you belong to the great lineage of Jefferson, Lincoln and Roosevelt. Believe us that for us it is a very great feeling to be accompanied in our career for peace and to life by a man of moral and spiritual characters.
Receive, Mr. Wallace, the sincere greeting of your Latin American friends.
Anyone with more knowledge of this conference is encouraged to be in touch.
Jacque Roethler
jacque-roethler@uiowa.edu
The Henry A. Wallace Papers are housed in Special Collections, including digitized collections.   Learn more here.