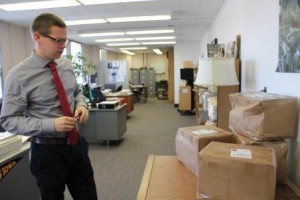 Patrick Olson joined us at the beginning of last semester as a new Special Collections Librarian in charge of collections analysis and acquisitions.  Patrick was most recently a rare book cataloger at M.I.T and came to Special Collections librarianship via the rare book trade.  Stop by and ask him about rare books or climbing mountains!
With Patrick in place, Special Collections has seen a flurry of activity this semester with boxes arriving almost daily with new donations and purchases.  The items are in various stages of being catalogued and processed so what follows here is an overview of new arrivals, with more announcements to follow soon.
Books:
Most recently we announced an extremely important purchase of twelve incunables (books from ~1450-1501).  Read our blog post and stay tuned, we'll have updates as they are cataloged and ready for research.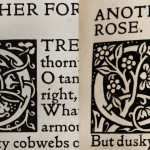 Morris, William, Poems by the Way [corrected proof pages], 1891, X – PR5078.P4 1891a  Infohawk record  Blog post
Huxley, Aldous,  After Many a Summer [inscribed to H.G. Wells], 1939, X – PR6015.U9 A68 1939, Infohawk record
Asturias, Miguel Angel,  Leyendas de Guatemala, 1930.  Infohawk record
Hunt, Leigh, A Day by the Fire [Luther Brewer's copy], 1870.
Von Siebold, Philipp Franz, Manners and Customs of the Japanese, 1841.  X – DS809.M28 1841 Infohawk record
Byron, Lord, English Bards and Scotch Reviewers [extra-illustrated], 1818.
Virgil, Bucolica, Georgica, et Aneis [Baskerville Virgil], 1757. X Folio – AC4.E28 1757. Infohawk record
West, Wallace, Alice in Wonderland [novelization of the 1933 film], 1934. X – PR4611.A73 W47 1934 Infohawk record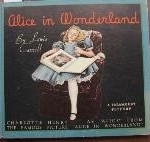 Gifford, Thomas, Praetorian, 1993. Iowa Authors Collection. Infohawk record
Rogers, Bruce (OUP), [Prospectus for the 1935 Oxford Lectern Bible], 1935.  Infohawk record
Wilcox, Daniel, Ernie the Cave King, 1975. X – PZ5.W698 1975 Infohawk record
Miniature books:
Carroll, Lewis, Alice's Adventures in Wonderland [miniature book with Rackham illustrations], 2011.  Smith – PR4611.A73 2011  Infohawk record
Poe, Edgar Allan, [J. & J. Sobota Press] The Pit and the Pendulum [miniature book], 2005. Mab – PS2618.P5 2005a Infohawk record (Tumblr post)
Dante Alighieri, La Divina Commedia [miniature book], 1878. (Blog post)
Sweet, Pat, The Dragon Gallery [miniature book], 2010, Smith – GR830.D7 S944 2010, Infohawk record (Tumblr post)
Amato, Christina,  Tale of Herville [miniature book], 2010.  Smith – PS3551.M183 T354 2010 Infohawk record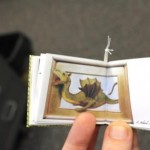 Amato, Christina, Swells & Spines, or, The Man Who Bound at Sea [miniature book], 2011.  Smith – PS3551.M183 S94 2011 Infohawk record
Artist's books:
Sara Langworthy book and broadsides:
New Patterns Primer [artist's book], 2013.  Infohawk record
Solid Phases, [artist's book], 2013. Infohawk record
Solid Fragments, [artist's book], 2013. Infohawk record
Atlantis, [broadside], 2009.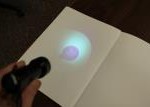 Healong, [broadside].
In the Trance , [broadside], 2009.
A Field Guide to Getting Lost, [broadside], 2010.
Practice, [broadside], 2009.
Small Study [broadside], 2009.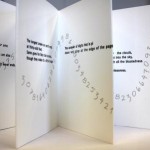 Szymborska, Wislawa and Susan Angebranndt of GreenChairPress, Pi, 2003.  [artist's book] X – PG7178.Z9 A222 2003 Infohawk record (Facebook post)
Reed, Justin James, 2013 [invisible ink], 2012.  [artist's book] X Folio – N7433.4.R424 T8 2012 Infohawk record  This text can only be viewed using a black light [included].
Hanmer, Karen, Letter Home, 2004. [artist's book] X – N7433.4.H35 L48 2004 Infohawk record
Hanmer, Karen, Nevermore, Again, 2010, [artist's book] Mab – PS2633.K372 2010 Infohawk record
Szathmary Collection:
Rowley Cook Book and Sunshine Cook Book [early 20th century community cookbooks]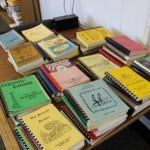 64 community cookbooks [mostly Iowa] (Facebook post)
Hayward, A., The Art of Dining [railroad edition], 1852.  Infohawk record
Locke, John and Henry, Commercial Cookery Archive (English Catering Company), [Mid 1800s bulk dates], Szathmary Culinary Manuscripts, Collection Guide
Chicago Sun Times, Three original photos of Chef Louis Szathmary, 1970s (Facebook post)
Obama, Michelle, American Grown, 2012.   Infohawk record
Manuscripts and Archives: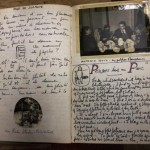 Arthur Asa Berger Papers  [University of Iowa alum and professor emeritus of Broadcast and Electronic
Communication Arts at San Francisco State University, where he taught between 1965 and 2003 and author of more than 60 books.].  More than 90 journals with a mix of drawings, photographs, personal life, and plans for books.
Mike Appelstein Collection, [Zine maker and writer who worked for VH1].  1990s zines, particularly music zines. This will especially complement the Sarah and Jen Wolfe Collection of Riot Grrrl and Underground Music Zines.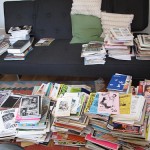 Joshua Glenn Collection, 1980s-1990s music fanzines, letters from zine publishers, and zine ephemera. (Joshua Glenn's Blog). (Tumblr).
Peter Thomas collection of papermaking and paper sample books.
Continuing fanzine acquisitions from the Organization for Transformative Works from many donors including a large donation of early Star Trek fanzines.
Morgan Dawn Collection addendum. [Zines for many TV shows and movies – Dr. Who, Harry Patter, Lord of the Rings, The Professionals, Quantum Leap, Star Trek & more].
George Ludwig papers. [Graduate Student under James Van Allen] (Two blog posts here and here)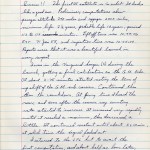 Dave Morice Collection [1970s Actualist movement.  Poet, illustrator, and performance artist.]  Large addendum including personal papers and lesser known comic books such as Cosmic Boy
and Power of the Atom.  Spanish language comic books, including Condorito.
Iowa Library Association, 20 feet of records.
Hancher Auditorium, 1970s posters. (Blog post)
Gary Frost, administrative and teaching files.
Janine Canan papers [Publications, CDs and DVDs of the feminist poet].
Cloe Mayes Yocum, [Hollywood scripts].
Marquis Childs [Iowa Author]. Manuscript for Cabin.
Sam Becker, [Emeritus faculty], we received a copy of a Saroyan lay Western Awakening.  This was Sam's copy from a production at the University of Wyoming and is signed by Saroyan.
Adam Boyce.  Collections relating to Charles Taggart, a Chautauqua performer, for our Redpath Chautauqua collection.
Beatrice Abrahamson's WWII diary
Letter from Marion, Iowa [Regarding settling in to a new life in 19th c Iowa]
Glowgramme, [1933 glow in the dark theater program] X – FOLIO PN2093 .G59 1933  Infohawk record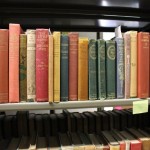 2 photo albums:
Trip to India c. 1900 [professional souvenir in lacquered Japanese binding]
Trip to Fiji & area c. 1920s [amateur photos]
Stein Collection, Muscatine Business owner's diverse "gentleman's library."  This collection will be kept together.
Brian Harvey Collection of 2000+ 19th and early 20th century dog books.
Records of the Progressive Party, and we got an addendum of Pennsylvania Progressive Party papers.  [Papers and press releases].
Other:
Reading room overhead scanner.