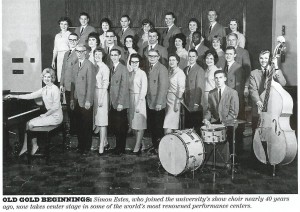 This story starts in 1959 when a UI undergraduate student from Centerville, IA, named Simon Estes auditioned for, and joined, the Old Gold Singers, a university chorus made up of non-music majors. The Old Gold Singers was a new organization, formed just two years before. It quickly established itself as a highly-talented goodwill ambassador of the University, thanks in no small part to Simon Estes' rich baritone voice.
 The University Archives had no recordings of the singers from those early seasons until only recently. In 2010, UI alumnus James Crook, a professor emeritus of journalism at the University of Tennessee at Knoxville, donated to the archives a set of phonograph disks featuring the troupe. Mr. Crook was a founding member of the Old Gold Singers and participated in its first three seasons. Mr. Estes, a classmate of Crook's, went on to an acclaimed operatic and solo vocal career, after completing his UI degree and studies at the Julliard School. He has performed with the New York Metropolitan Opera, the Lyric Opera of Chicago, and throughout Europe in a career spanning over 50 years.
Among the phonograph records that Mr. Crook donated is one featuring Mr. Estes as a soloist during his first season with the Old Gold Singers, while a sophomore. The rare recording was made in a Cedar Rapids recording studio in 1959 or 1960, and playing it on a turntable more than 50 years later yielded a lot of scratches and pops with the music. Still, it was a valuable addition to the archives, believed to be the earliest-known recording of a young singer at the dawn of a remarkable and distinguished career.
The UI Libraries' Preservation Department cleaned the record thoroughly and shipped it to the Media Preserve, a Pittsburgh firm specializing in recovery of audiovisual recordings. There, staff produced a digitally-reformatted version of the recording, one that sounds as good as new. The University Archives now has a digital copy of this rare recording, along with the original phonograph disk.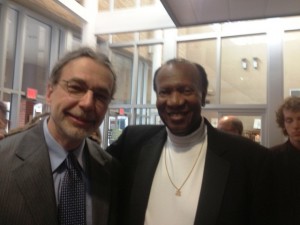 But the story doesn't end there. On Sunday, March 17, Mr. Estes performed in Osage, Iowa, at a special dedication program recognizing that community's new Krapek Family Fine Arts Center. The program was also part of his Roots and Wings tour in which he hopes to eventually perform in each of Iowa's 99 counties. High school choruses from Osage and nearby Riceville and St. Ansgar also performed with Mr. Estes that afternoon.
Following the performance, UI Archivist David McCartney, representing the UI Libraries, presented Mr. Estes with a CD copy of the recording, housed in a case made for the occasion by staff in the Conservation Lab. The audience of over 600 also heard a one-minute excerpt, featuring a 21-year-old Mr. Estes singing a selection from "Porgy and Bess," a number he coincidentally sang earlier in the afternoon as part of the program.
 The UI Libraries' Department of Special Collections and University Archives is pleased to honor Mr. Estes and to preserve an early and important part of his outstanding career.