Thank you to all who attended last week's first meeting of the Historic Foodies!  For those of you who missed the meeting, Kathrine's Moermond from the Old Capitol Museum told tales of tracking down the variations of Marlborough Pudding.  I've included her account here and hear her tell some of the tale on this week's episode of Talk of Iowa!  
Marlborough Pudding or Pie
I happened across the recipe as I was looking through Alice Electa Pickard's recipe book that dates back to 1868 (page 49).  I love to look for new dessert recipes and this one intrigued me because of its unusual name and simple ingredients.  Sure enough, the pie I found to be a traditional Thanksgiving dessert and its praise was beaming on the Old Village Sturbridge Village website where if you're looking for traditional New England Turkey Day recipes, this would be place to find them.  But, I was intrigued.  Marlborough Pie is very English, calling for nutmeg, lemon, and apple.   And, were some of the Pilgrims yearning for the mother land when preparing and serving this pie?  The recipe listed on the website called for a slightly different preparation and a few different ingredients.  So, I just had to make both. 

Marlborough Pie, Alice Electa Pickard, 1868
My first attempt at making Alice's recipe was exuberant and exciting and I think I took things a little too fast.  I had consulted another recipe online though that recommended grating the apples directly into the batter as to prevent browning, so that's what I did.  I also had the hunch to melt the butter first before blending.  I prepared the all butter crust first though with a recipe from Sarah Josepha Hale's book, Early American Cookery, 1841.  I then prepped the ingredients, using a cheap chardonnay for the wine and large brown organic eggs.  Since she said "spice to taste", I took the liberty of using freshly grated nutmeg, cinnamon, and ginger as well.   I then grated the apple into the mix, stirred, and then placed it in the "undercrust" and then into the oven.  Since she does not reference a temperature, I went for a reliable 350 Fahrenheit and checked it at 35 minutes. And, it turned out just right.  Or, so I thought.  Soon after cutting into it I realized the egg had separated from the apple and there were two distinct layers.  The taste was great, but I thought that this might not be the end goal.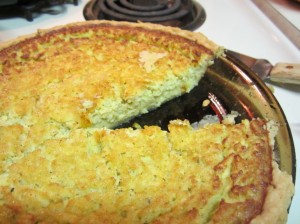 1st attempt at Alice's recipe
The following evening I attempted to make Alice's version again and the Old Sturbridge Village version.   The Old Sturbridge Village version is a modern adaptation of Amelia Simmons' version from 1796 and includes stewed apples, lemon, cream, sherry, and two teaspoons of grated nutmeg.  Spicy!  In hopes to save time, I stewed the apples for the new recipe first and prepared the filling for Alice's recipe.  I then made the crusts for each and then put the new recipe together.  I baked the new one first and Alice's second.  In my timely preparation for both pies, I did not realize that this actually was the key to Alice's recipe, let the filling do some blending in the bowl before you bake it.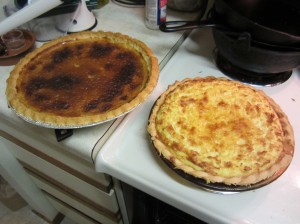 Old Sturbridge Village pie (left) and Alice's pie (right).
As I sliced into the second attempt at Alice's pie I let out a sigh of relief, it wasn't in two layers!  I realized then that all that time it sat waiting to place in the oven probably helped to make the ingredients blend happily with one another.  Then, I cut open the second and I noticed the texture was much different, almost more of a cooked applesauce custard.  In the Old Sturbridge Village recipe I had only used one teaspoon of grated nutmeg.  However, it was still very alive with nutmeg, and with sherry.  Both turned out to be very tasty, but I have to give my props to Alice's recipe.  It didn't call for lemon, probably too expensive at the time to include, and it was very basic with great results.  The texture of the pie hints to apple, but along with the eggs and butter, comes together to make a lovely and delicate dish. 
I like Alice's recipe so much that I'm sharing it with boyfriend's family for their Thanksgiving!
Next meeting: Tuesday, December 11 at 6PM. Our theme for next month is holiday recipes and cookies so find a recipe from DIY History or the Szathmary printed cookbooks in Special Collections and bring a story of your success or failure, and photos of your dish as well as a sample to share! We'll start the meeting with hands-on time to explore the handwritten manuscripts from the Szathmary Culinary Collection and tours of the collection.