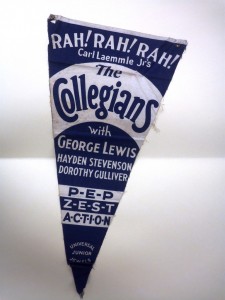 by Denise Anderson.
Fall classes are now in session and the football Homecoming Centennial is upon us, so what better time to examine a felt pennant which advertises "The Collegians," by Carl Laemmle, Jr. "The Collegians" was a series of 44 two-reel films, in which the same players reprised their characters through four years of a college life full of romance and football from 1926-1929.
This pennant is from the Ted Rehder Papers. Ted was a University of Iowa student in 1926 when "The Collegians" series was released and likely screened in Iowa City. He went on to work serving U of I collegians for 47 years in dormitories and in dining service until his retirement in 1976. We are grateful to Ted for preserving this piece of ephemera.
"The Collegians" was part of Carl Laemmle Junior's first series, his silent comedy "Junior Jewels," produced between 1926 and 1929 for Universal, the film studio founded by his father in 1912. In April 1929, Carl junior was placed in charge of all film production at Universal. Among other genres, he produced horror movies such as "Frankenstein" (1931), "Dracula" (1931), "The Mummy" (1932), "The Invisible Man" (1933) and "The Bride of Frankenstein" (1935). Production of these films broke Universal after seven years under his direction, due to the Great Depression and the amount of money he insisted on spending in order to deliver the entertainment audiences desired.
Check out this and other pieces of ephemeral history from campus life in Special Collections and the University Archives.