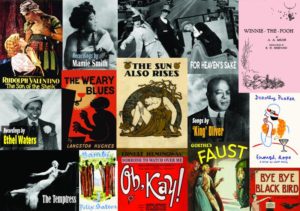 Now, you have even more works—and for the first time, sound recordings—available to be freely digitized, read, and used as the basis for new work.
On Jan. 1, 2022, debut novels by Ernest Hemingway and William Faulkner, A.A. Milne's Winnie the Pooh, and about 400,000 sound recordings from before 1926 were among the many books, recordings, movies, and other creative works that entered the public domain.
So, why is the public domain important? Permission is no longer needed to copy or use the works, which is an essential opportunity to foster learning, innovation, and the creation of new works.
Here are some places to check out the newly available creative works from 1926 available in the public domain:
Interested in finding out more about U.S. copyright law and how to determine a work's copyright status? The Scholarly Impact Department helps faculty work through complex copyright issues, such as what can be used in the classroom, how to retain your rights as an author, and how to apply Creative Commons licensing. Feel free to send an email to mahrya-burnett@uiowa.edu to set up a consultation. You might also try these excellent copyright resources: