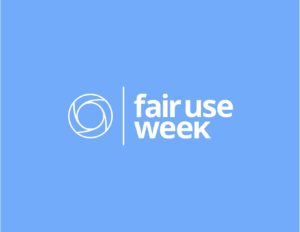 During the week of February 21, we celebrate Fair Dealing/Fair Use Week, which uplifts the Fair Use Doctrine and the educational and creative expression that it allows. Fair use of copyrighted information is a right that is guaranteed in the U.S. Code and allows us to use copyrighted material within the contexts of education, parody, accessibility, and reporting.
There are some misconceptions about fair use, however. Not every educational activity is covered under the doctrine, and some cases for fair use are stronger than others. There are four factors that must be considered when determining whether you are covered under fair use:
the purpose and character of the use, including whether such use is of a commercial nature or is for nonprofit educational purposes
the nature of the copyrighted work. Is it more factual or more creative?
the amount and substantiality of the portion used in relation to the copyrighted work as a whole
the effect of the use upon the potential market for or value of the copyrighted work.
In recent years, courts have determined that the four factors should not be weighted equally in all cases, and a "checklist" method of determining fair use cannot accurately be applied across different cases and different types of use. This means that each time you wish to use material under the Fair Use Doctrine, you should conduct a four-factor analysis and document your rationale. Below are some resources that can help you walk through the process of conducting an analysis for fair use.