You're Invited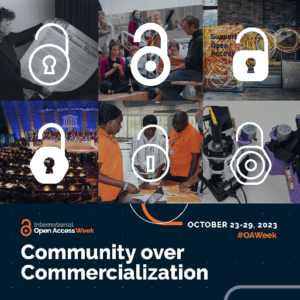 Join faculty leaders from all over campus in celebrating International Open Access Week 2023 with a panel discussion on the theme of Open Access: Community over Commercialization.
The UI Libraries' Scholarly Impact department will be hosting the webinar on Tuesday, Oct. 24, 2023, at noon CDT.
In what promises to be a lively discussion, panelists will discuss their experiences with open access publishing and open scholarship more broadly. They will also share their views on the benefits and barriers to the free and open sharing of research outputs with the public and the academic community.
Panelists
Leonardo Marchini, DEO and professor, Preventative and Community Dentistry
Kembrew McLeod, department chair and professor, Communication Studies
Maurine Neiman, professor, Biology
Deborah Whaley, department chair and professor, African American Studies
Moderator: Sara Scheib, director, Scholarly Impact, UI Libraries
RSVP Today
Register for the Libraries' Open Access Faculty Panel at https://uiowa.zoom.us/webinar/register/WN_Ssj-ymi9QcWkFf7k7pWQPw.
We look forward to seeing you!