In March 2023, Conservation and Collections Care at the University of Iowa Libraries welcomed Yasmeen Khan as the featured speaker for its William Anthony Conservation Lecture for Book and Paper Conservators and Bookbinders, a celebrated event for the UI book arts community and beyond.
During the hybrid lecture, Khan reflected on her career in conservation and growing with the job. She started her work in the field in 1987 and currently serves as the head of paper conservation at the Library of Congress, where she has worked in various conservation roles since 1996. Her research is focused on the characterization of bookmaking and its associated crafts in the Middle East and South Asia, and the development of techniques for the preservation of illuminated manuscripts from the same geographic area.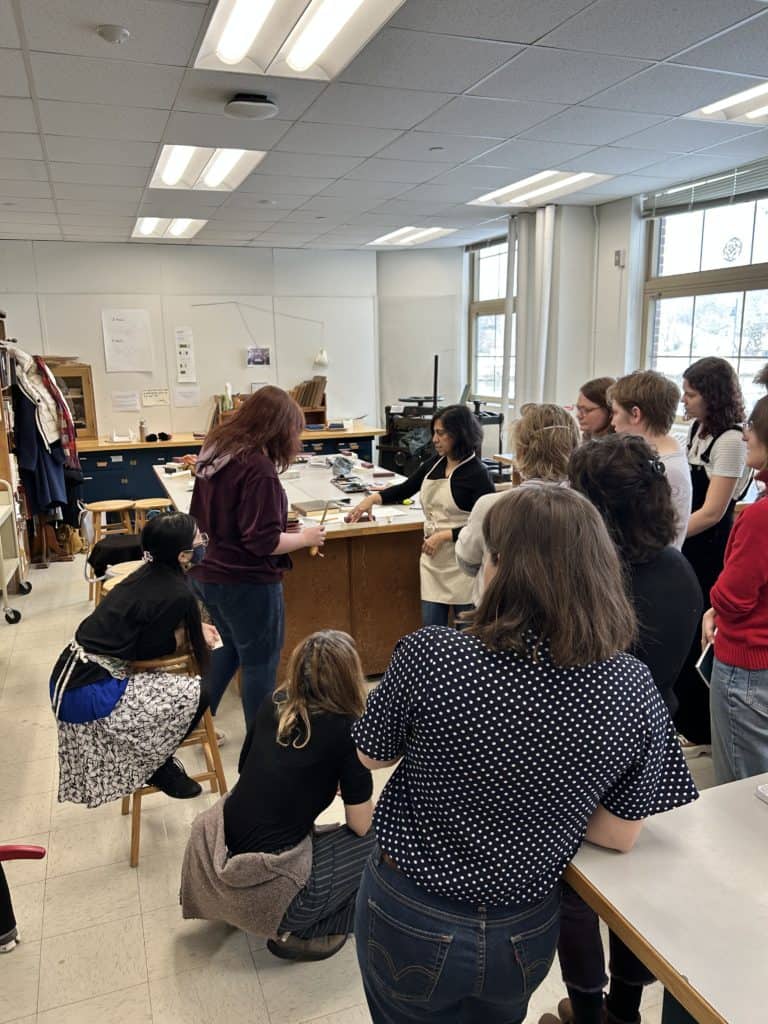 According to Khan, a career takes time, not unlike finding a book. Her advice to people in the conservation field, or any field: take every opportunity to practice and apply.
"It's better to have other people say no to you than to say no to yourself," Khan shared with Suzanne Glémot, collections care assistant, before the lecture. "It's a small world in book and paper, and even if you don't think you're fully qualified for the job yet, you should apply. The more you interview, the better you get at it. The more you learn and know about yourself, and it's a chance to show your works and meet folks in this small enough community."
WATCH Khan's lecture and learn more about her.
READ about Anthony and his legacy.
---
The William Anthony Conservation Lecture Series is supported by the William Anthony Conservation Fund, established in 1989 by a generous gift from Julie Scott and James Fluck. It honors Anthony's long-lasting legacy in the field and his service as the Libraries' first conservator and first bookbinding instructor at the UI Center for the Book.