It's no secret that the UI Libraries boast some of the best librarians in the field. Willow Fuchs and Donna Brooks are two such standouts, bringing an impressive variety of skills—creativity, adaptability, and integrity—to their work. In this issue of BINDINGS, we're taking an opportunity to amplify their accomplishments. Both exemplify the care and dedication that all our librarians bring to an institution where the exceptional is the rule.
Donna Brooks
Program Manager, Digital Scholarship and Publishing Studio
Donna Brooks describes herself as "intrinsically motivated by possibility," and she aims to ensure that her colleagues find that kind of motivation in their work, too. As program manager at the Digital Scholarship and Publishing Studio, she fosters creativity within her interdisciplinary team through project management and organizational development. The result is a collaborative environment in which all varieties of expertise are valued.
Brooks' own diverse interests may factor into this creativity-first mindset. Her artistic pursuits include landscaping, making stained glass art, and carpentry—and she also has a Master of Fine Arts in nonfiction writing. Her team shares this adventurous spirit; according to Brooks, one of the Studio's greatest strengths is that its staff is made up of creative professionals whose expertise, both professional and personal, spans many fields.
Brooks sees the Studio's fundamental role as connective, offering support to the research and creative work of university students, faculty, and staff. A huge part of that work is fostering equity for everyone on campus regardless of their resources by offering free access to space, technology, and digital project development.
The Digital Scholarship and Publishing Studio collaborates with students, faculty, and staff on the digital design and implementation of their research to encourage scholarly creativity, interdisciplinary research, and multiplatform circulation. The Studio also administers the graduate certificate in public digital humanities, runs a summer fellowship program, and offers a slate of short courses for graduate students and advanced undergraduates.
Willow Fuchs
Business Reference and Instruction Librarian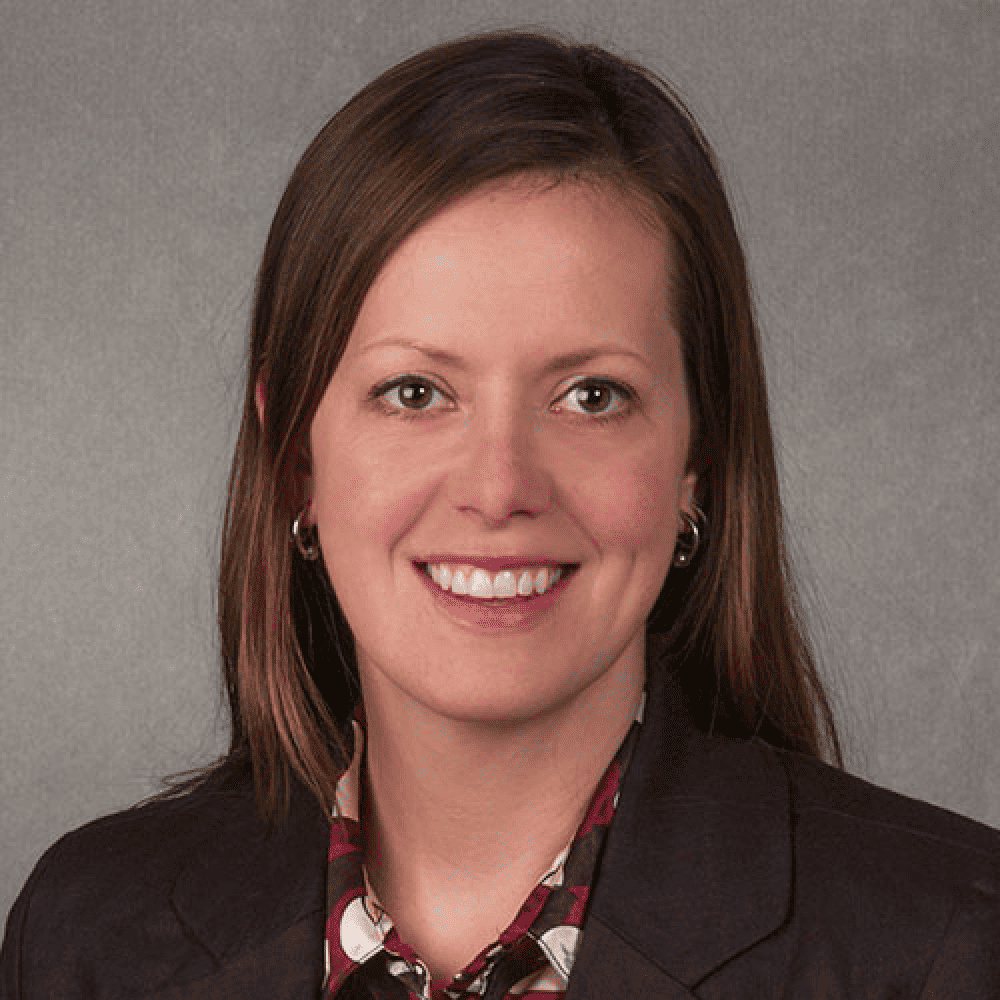 Willow Fuchs knows that knowledge is power, especially when it comes to the field of business information. After all, every decision requires data, and the resources that gather and store that data are always evolving. She describes much of her own role as a kind of navigator, "steering users in the right direction" to find the information they need.
Her work as a business reference and instruction librarian at the Martin A. Pomerantz Business Library requires an analytical mindset and a wide knowledge base. Users who reach out to Fuchs for help are often looking for extremely specific pieces of information, the kind of data they've been unable to find on their own. It's fulfilling these requests that she finds most satisfying. With "a little digging," every search can lead to a game-changing discovery.
Fuchs takes cross-campus collaboration seriously, and often takes on responsibilities that reach beyond her own office: chairing and co-chairing committees, collaborating with other libraries, and working alongside diversity, equity, accessibility, and inclusion groups to support environments that are "safe, equitable, and inclusive" across campus.
Business Library users can reserve study rooms and Bloomberg terminals within the BizHub's bright, colorful space on the top floors of the Pappajohn Business Building. You can also tap into the team's knowledge online by checking out the Libraries' YouTube channel, which hosts over 30 "how-to" videos to guide visitors through the use of databases and other informational resources.