University of Iowa researchers are increasingly taking advantage of the university's institutional repository, Iowa Research Online (IRO), to house their research and creative works. IRO currently holds nearly 115,000 research outputs from Iowa faculty, staff, and students, and has seen more than 12 million downloads of content since 2009. On top of preserving articles, books, conference proceedings, theses, and dissertations, IRO is also an ideal place for researchers to deposit their datasets and code.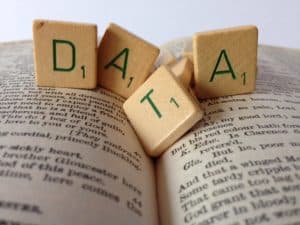 IRO provides preservation, access, and curation of your data. Here's what that means in practice:
Preservation
Your dataset or code will be housed on a secure server for the long term, maintaining it for future use. Despite the perception that digital files never wear out, they can deteriorate. Sometimes this happens due to bit loss – when the binary code that makes up the file degrades as the data is transferred from one place to another – or sometimes because of corrupted files. In other cases, file formats evolve and need to be converted to a different format to enable access and use.
The items in IRO are proactively managed to guard against these situations. Regular fixity checks act as "check-ups" for files to ensure they're healthy and haven't changed, multiple copies of the data are archived in different geographic locations in the case of a natural disaster, and corrupted files have self-healing capabilities thanks to the cloud infrastructure that houses them. All of this ensures that the products of your hard work are available now and in the future.
Using open formats for your work also helps with preservation, since these formats – like .sav, .mp3, and .mp4, to name a few – are more likely to remain functional in the future. In fact, using open formats also facilitates another benefit of archiving in IRO, access, since the files don't require specialized proprietary software to open and use them.
Access
Your dataset will be accessible to researchers all over the world, increasing the reach and impact of your work. This access is made possible by a few key features.
First, all IRO deposits have a metadata record with pertinent information about the dataset – like the title, collaborators, abstract, grant information, dates of data collection, etc. Since all items in the repository are discoverable on Google and are indexed and searchable in InfoHawk+, the University of Iowa Libraries' discovery tool, robust metadata makes it more likely that your dataset will appear in relevant searches. This is vital for helping others find your work.
Equally important is the stable, persistent URL your dataset will receive. Since the URL won't change, it eliminates the tedium of identifying and updating broken links on your CV or personal website and makes it easier for you to share your work with others. And if you're ever curious about the number of views and downloads a dataset receives, the metrics are readily available.
All IRO deposits also receive a digital object identifier (DOI) which makes it easy for others to cite your work when they use it and ensures you get credit when they do. When you deposit your data, you can also link to the DOI of the article or articles where the data is used. Research Data Services in the Scholarly Impact Department at the UI Libraries can even reserve a DOI for your dataset and keep it inactive so you can put the citation in a manuscript during the peer review process. After the article is published, just ask us and we'll activate it.
Curation
A data librarian at the University of Iowa Libraries will also help curate your data when you deposit it in IRO. In addition to ensuring your file names and organization strategies are understandable to potential users, the librarian can also help you find open formats for your files, look at your documentation, and assist with the all-important metadata record that helps others find your work.
Get Started
Ultimately, depositing your data and code in IRO is a win-win. It helps you preserve your research outputs, disseminate them to increase the influence of your work, and enable scholars the world over to find and use your data and code for their own projects. And now that The National Institutes of Health require that researchers identify appropriate repositories for their data in their Data Management and Sharing Plans, IRO could be the answer – especially if no discipline-specific repositories exist in your field. IRO's preservation, access, and curation features put it a step above other generalist repositories.
If you want help depositing your data or code in IRO or have questions about choosing a repository, Research Data Services is here to assist you. We have a guide on our website walking you through the steps to upload your content in IRO, do one-on-one consultations, and are available by email, too.