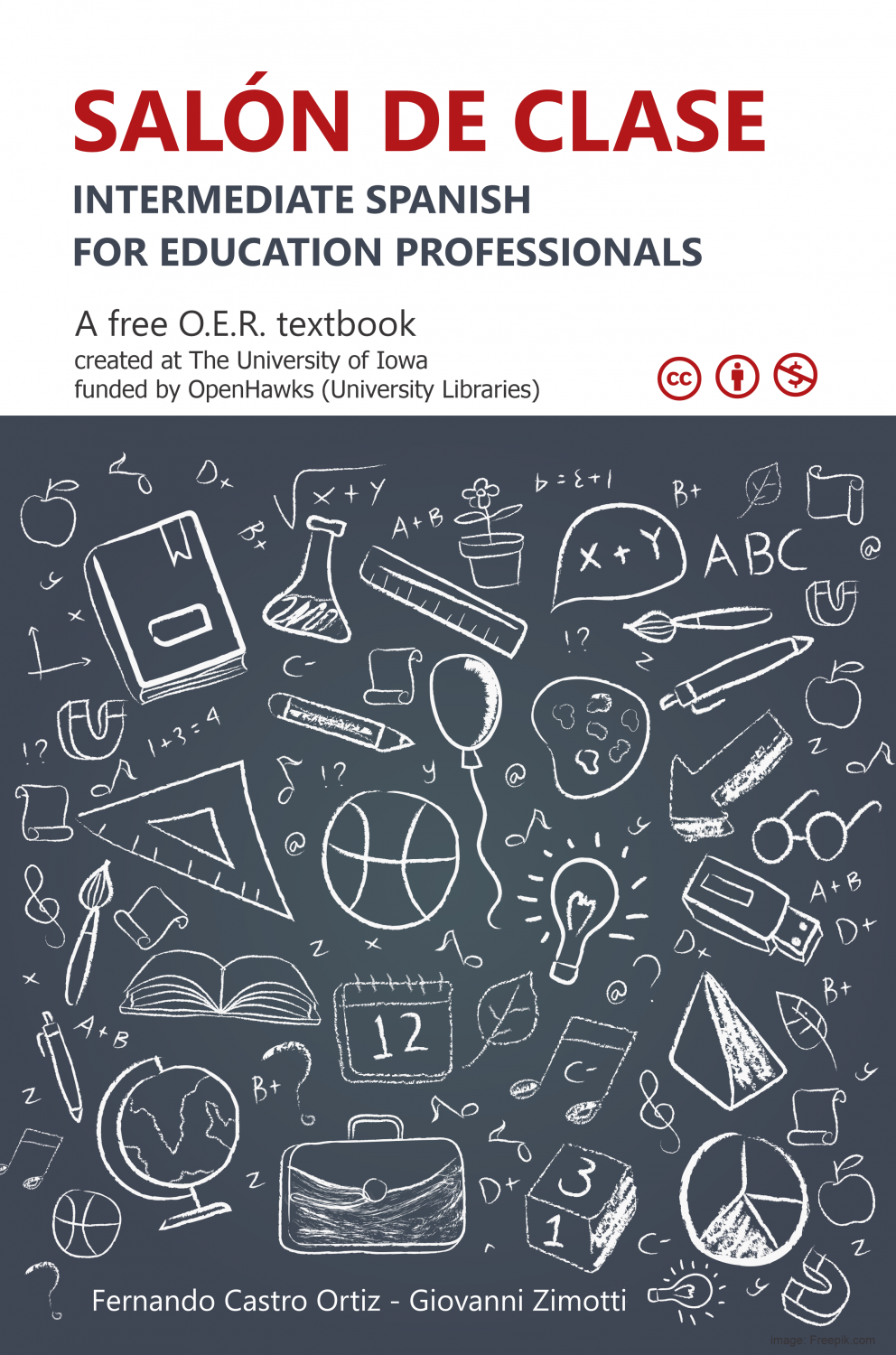 By Georgia Page, UI Libraries Student Specialist, Scholarly Impact, georgiab-page@uiowa.edu
In early March, UI Libraries celebrated Open Education Week in order to raise awareness about open educational resources (OER) and other open education practices. However, many students and faculty on campus are not yet familiar with the positive impact that OER has on students' academic success, while also making education more accessible and affordable. To get a better understanding of what it means to "create" OER, I interviewed Dr. Giovanni Zimotti, head of the Spanish and Portuguese programs here at the university.
Zimotti, who is now working on his third OER project, talked about the process of creating OER, and how it has benefitted both students and educators within the Spanish program. When asking him how he decided to make open textbooks, he explained, "We didn't know anything about writing a textbook, but we knew we wanted to write one. The ones that were available were not good enough for our classrooms. They were either really expensive – like $200 – or they were too easy for our students. We want a textbook for four semesters of Spanish and something that would be challenging. This didn't exist, so we started to make it."
But how does one even start making a textbook for four different levels from scratch? Zimotti explains that while he didn't know for sure from the start, he was up for a challenge. "We created a small team, and decided to apply for another grant," he explains. "Right now, a year later, we have 10 to 15 professors across the country peer-reviewing the textbook to make sure that it is of quality to be used in our classroom and classrooms in other states as well."
Zimotti explains that over the past few years, he and a team have been working on creating a new textbook that could be utilized not only by students here at the University of Iowa but also across the world. When asked what part of this project most excited him, he says, "The most exciting part, and my main goal, is trying to get all textbooks to a really low cost. All of our students have to pay a lot of money for these textbooks, so my goal is to get the cost as close to zero as possible. If we can save our students hundreds of thousands of dollars in textbook fees, that's my goal."
While cost is one of the biggest issues for these textbooks, Zimotti explains that most language textbooks are also out-of-date, which is an issue for students and educators alike. "When we started creating the OER textbook, we started thinking about how to create localized content. Instead of having interviews with celebrities from 20 years ago, or a random piece of technology that is outdated. For this textbook, we tried to interview people that were real people in the community. We found Spanish speakers from different backgrounds, such as a person from West Liberty that run a dual-language program. He is from Mexico, he is on the school board, and he is an indigenous person. He was super interesting and brought a new perspective to the students." This is just one example of the many folks that Zimotti and his team were able to interview and include in the new textbook, which will help to better immerse students in the reality of Spanish speaking culture, as well as making sure that students can directly relate with the scenarios and references within the text. As Zimotti explains, "This is not something you can just get from your average textbook."
OER allows for a more inclusive, immersive, and accessible way to educate, and encourages students to be involved and invested in their success. While this project is just one of many here at UI, it will change the way that Spanish is taught not only at the University of Iowa but at universities across the country. Zimotti and his team's new textbook will be available for use in Spanish classrooms at the University of Iowa and the University of Nebraska starting Spring of 2023.
If you are interested in receiving grant funding to use, adapt, or create your own OER, check out UI Libraries' OpenHawks program. We are currently accepting proposals through April 29, 2022.