Welcome to the Library's virtual New Book Shelf. Here we will present new titles for you to browse and check out. Titles listed here will be monographs published in the current year. If you see a title you would like to borrow, please click the link below the item and sign in with your Hawk ID and Password to request a loan.
Retracing Baptists in Rhode Island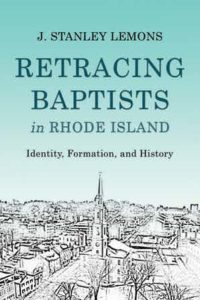 Rhode Island can legitimately claim to be the home of Baptists in America. The first three varieties of Baptists in the New World—General Six Principle, Particular, and Seventh Day—made their debut in this small colony. And it was in Rhode Island that the General Six Principle Baptists formed the first Baptist association; the Seventh Day Baptists organized the first national denomination of Baptists; the Regular Baptists founded the first Baptist college, Brown University; and the Warren Baptist Association led the fight for religious liberty in New England.
In Retracing Baptists in Rhode Island, historian J. Stanley Lemons follows the story of Baptists, from their founding in the colonial period to the present. Lemons considers the impact of industrialization, urbanization, and immigration upon Baptists as they negotiated their identities in an ever-changing American landscape. Rhode Island Baptists, regardless of variety, stood united on the question of temperance, hesitated on the abolition of slavery before the Civil War, and uniformly embraced revivalism, but they remained vexed and divided over denominational competition, the anti-Masonic movement, and the Dorr Rebellion.
Lemons also chronicles the relationship between Rhode Island Baptists and the broader Baptist world. Modernism and historical criticism finally brought the Baptist theological civil war to Rhode Island. How to interpret the Bible became increasingly pressing, even leading to the devolution of Brown's identity as a Baptist institution. Since the 1940s, the number of Baptists in the state has declined, despite the number of Baptist denominations rising from four to twelve. At the same time, the number of independent Baptist churches has greatly increased while other churches have shed their Baptist identity completely to become nondenominational. Lemons asserts that tectonic shifts in Baptist identity will continue to create a new landscape out of the heritage and traditions first established by the original Baptists of Rhode Island.
https://search.lib.uiowa.edu/permalink/f/7nh330/01IOWA_ALMA21732840680002771
Papal Diplomacy from 1914 to 1989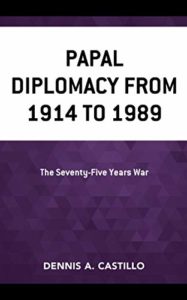 The First World War, the Second World War, and the Cold War are episodes of a wider conflict, called here "The Seventy-Five Years War," dominated the twentieth century. Both unresolved issues and new issues from the First World War carry over into the next conflict, which in turn led immediately to the Cold War. While this great conflict can be viewed from different perspectives, this book focuses on the role of the Papacy. From the stateless Benedict XV's attempts to call a peace conference, to the establishment of Vatican City and the restoration of sovereignty, to the struggles of Pius XI and Pius XII with both Fascism and Communism, and the contributions of John Paul II to the collapse of Communism, the Catholic Church was a part of this struggle. In addition to its humanitarian and pacifistic efforts from 1914 to 1989, the Catholic Church was also engaged in an intense ideological struggle with atheistic communism. This conflict will often take priority over other ideological conflicts, such as that with Fascism, as well as complicate the Church's mission in other parts of the world, such as Latin America and Asia.
https://search.lib.uiowa.edu/permalink/f/7nh330/01IOWA_ALMA21732803630002771
Luther's Treatise on Christian Freedom and Its Legacy
This book analyzes Luther's treatise On Christian Freedom and its revolutionary re-definition of what it means to be Christian as one freed by Christ from sin, the accusation of God's law, and death in order to be bound or bonded to the neighbor. Robert Kolb puts the treatise in its historical context, tracing its key ideas as they developed out of his medieval background, and as they continued to mature throughout his life. A contextual analysis of the text accompanies an overview of how this treatise was used or ignored throughout subsequent centuries, including the more extensive impact it has had in the last half century.
https://search.lib.uiowa.edu/permalink/f/7nh330/01IOWA_ALMA21732813080002771
How Ancient Narratives Persuade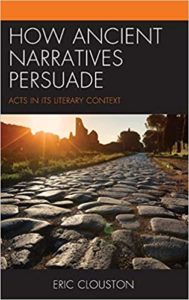 The Acts of the Apostles includes persuasive speeches, but the whole story should also be seen as an act of persuasion. In How Ancient Narratives Persuade: Acts in Its Literary Context, Eric Clouston takes a fresh approach to interpreting Acts, treating it as a persuasive narrative. Comparison with other Greek narratives allows Clouston to show how events and characters––and how they are described as worthy of trust, empathy, or respect, as well as their speeches and narrator asides––all have different persuasive effects. His examination of the persuasive effects of narrative in Acts leads at last to conclusions about the purpose of the work directed to a readership unconvinced by the figure of Paul.
https://search.lib.uiowa.edu/permalink/f/7nh330/01IOWA_ALMA21732835640002771
Commentary on Thomas Aquinas's Treatise on Happiness and Ultimate Purpose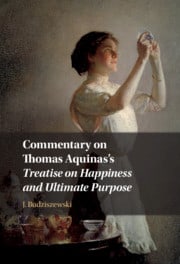 This monumental, line-by-line commentary makes Thomas Aquinas's classic Treatise on Happiness and Ultimate Purpose accessible to all readers. Budziszewski illuminates arguments that even specialists find challenging: What is happiness? Is it something that we have, feel, or do? Does it lie in such things as wealth, power, fame, having friends, or knowing God? Can it actually be attained? This book's luminous prose makes Aquinas's treatise transparent, bringing to light profound underlying issues concerning knowledge, meaning, human psychology, and even the nature of reality.
https://search.lib.uiowa.edu/permalink/f/7nh330/01IOWA_ALMA21732821190002771
Contemporary Perspectives on Revelations and Qur'anic Hermeneutics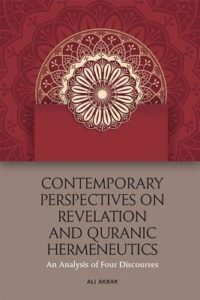 Ali Akbar examines the works of four noted scholars of Islam: Fazlur Rahman (Pakistan), Abdolkarim Soroush (Iran), Muhammad Mujtahed Shabestari (Iran) and Nasr Hamid Abu Zayd (Egypt). His study shows that the consequences of taking a humanistic approach to understanding revelation are not confined to the realm of speculation about the relationship between God and humans, but also to interpreting Qur'ānic socio-political precepts. The four scholars emerge as a distinctive group of Muslim thinkers who open up a new horizon in contemporary Islamic discourse.
https://search.lib.uiowa.edu/permalink/f/7nh330/01IOWA_ALMA21732820950002771
The Attending Mind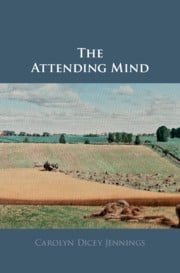 An ancient metaphor likens attention to an archer pulling her bow – the self directing her mind through attention. Yet both the existence of such a self, and the impact of attention on the mind, have been debated for millennia. Advancements in science mean that we now have a better understanding of what attention is and how it works, but philosophers and scientists remain divided as to its impact on the mind. This book takes a strong stance: attention is the key to the self, consciousness, perception, action, and knowledge. While it claims that we cannot perceive novel stimuli without attention, it argues that we can act on and experience the world without attention. It thus provides a new way of thinking about the mind – as something that can either shape itself through attention or engage with the world as it is given, relying on its habits and skills.
https://search.lib.uiowa.edu/permalink/f/7nh330/01IOWA_ALMA21733144980002771
The Movement of Showing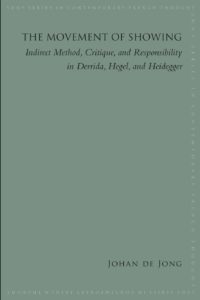 Explores why Derrida, Hegel, and Heidegger conceive their thought as a "movement" rather than as a presentation of results or conclusions, and of the consequences of such an indirect method for critique and responsibility.
This book explores the idea shared by Derrida, Hegel, and Heidegger that the value of their thought is not found in its results or conclusions, but in its "movement." All three describe the heart of their work in terms of a pathway, development, or movement that seems to deprive their thought of a solid ground. Johan de Jong argues that this is a structural vulnerability that is the source of its value, tracing Derrida's indirect method from his early to later works, and critically considering his engagements with Hegel and Heidegger. De Jong's analysis locates an affinity among Hegel, Heidegger, and Derrida in a shared distrust of externality and, against the grain of some Levinasian commentaries, argues that Derrida's indirectness results in an ethics of complicity. The Movement of Showing answers a central question that many polemics about continental philosophy and postmodernism revolve around, namely: with which methods does one philosophize responsibly? It shows the difference between critique and polemics, and why simply taking up a position for or against is insufficient in order to think responsibly.
https://search.lib.uiowa.edu/permalink/f/7nh330/01IOWA_ALMA21733123390002771
Regulating Difference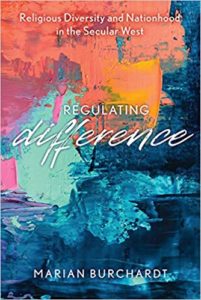 Transnational migration has contributed to the rise of religious diversity and has led to profound changes in the religious make-up of society across the Western world. As a result, societies and nation-states have faced the challenge of crafting ways to bring new religious communities into existing institutions and the legal frameworks. Regulating Difference explores how the state regulates religious diversity and examines the processes whereby religious diversity and expression becomes part of administrative landscapes of nation-states and people's everyday lives. Arguing that concepts of nationhood are key to understanding the governance of religious diversity, Regulating Difference employs a transatlantic comparison of the Spanish region of Catalonia and the Canadian province of Quebec to show how processes of nation-building, religious heritage-making and the mobilization of divergent interpretations of secularism are co-implicated in shaping religious diversity. It argues that religious diversity has become central for governing national and urban spaces.
https://search.lib.uiowa.edu/permalink/f/7nh330/01IOWA_ALMA21732841240002771
Time In Exile : in conversation with Heidegger, Blanchot, and Lispector
This book is a philosophical reflection on the experience of time from within exile. Its focus on temporality is unique, as most literature on exile focuses on the experience of space, as exile involves dislocation, and moods of nostalgia and utopia. Marcia Sá Cavalcante Schuback proposes that in exile, time is experienced neither as longing back to the lost past nor as wanting a future to come but rather as a present without anchors or supports. She articulates this present as a "gerundive" mode, in which the one who is in exile discovers herself simply being, exposed to the uncanny experience of having lost the past and not having a future. To explore this, she establishes a conversation among three authors whose work has exemplified this sense of gerundive time: the German philosopher Martin Heidegger, the French writer and essayist Maurice Blanchot, and the Brazilian writer Clarice Lispector. The book does not aim to discuss how these authors understand the relation between time and exile, but presents a conversation with them in relation to this question that reflects new aspects in their work. Attempting to think and express this difficult sense of time from within exile, Time in Exile engages with the relation between thought and language, and between philosophy and literature. Departing from concrete existential questions, Sá Cavalcante Schuback reveals new philosophical and theoretical modes to understand what it means to be present in times of exile.
https://search.lib.uiowa.edu/permalink/f/7nh330/01IOWA_ALMA21733141900002771