Welcome to the Library's virtual New Book Shelf. Here we will present new titles for you to browse and check out. Titles listed here will be monographs published in the current year. If you see a title you would like to borrow, please click the link below the item and sign in with your Hawk ID and Password to request a loan.
Origins of Temporal (t>v) Universe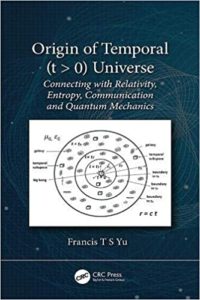 The essence of temporal universe creation is that any analytical solution has to comply with the boundary condition of our universe; dimensionality and causality constraints. The essence of this book is to show that everything has a price within our temporal (t > 0) universe; energy and time.
In mathematics, every postulation needs proof; there exists a solution before searching for the solution. Yet science does not have seem to have a criterion as mathematics does; to prove first that a postulated science exists within our temporal universe. Without such a criterion, fictitious science emerges, as already have been happening in every day's event. In this book, the author has shown there exists a criterion for a postulated science whether or not it is existed within our universe. The author started this book from Einstein's relativity to the creation of our temporal universe. He has shown that every subspace within our universe is created by energy and time, in which subspace and time are coexisted. The important aspect is that every science has to satisfy the boundary condition of our universe; causality and dimensionality. Following up with temporal universe, the author has shown a profound relationship with the second law of thermodynamics. He examines the relationship between entropy with science as well as communication with quantum limited subspace throughout the book. The author discusses the paradox of Schrödinger's Cat (which has been debated by Einstein, Bohr, Schrödinger and many others since 1935) that triggered his discovering that Schrödinger's quantum mechanics is a timeless machine, in which he has disproved the fundamental principle of superposition within our universe. Since quantum mechanics is a virtual mathematics, he has shown that a temporal quantum machine can, in principle, be built on the top of a temporal platform.
This book is intended for cosmologists, particle physicists, astrophysicists, quantum physicists, computer scientists, engineers, professors and students as a reference and research-oriented book.
https://search.lib.uiowa.edu/permalink/f/7nh330/01IOWA_ALMA21733142410002771
Hegel on Possibility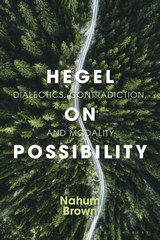 Providing a clear interpretation of Hegel's characterizations of possibility and actuality in the Science of Logic, this book departs from the standard understandings of these concepts to break new ground in Hegelian scholarship.
The book draws out some of the implications of Hegel's view of immanent possibility, especially as it relates to Leibniz's thesis of modal optimism: his view that this world is the best of all possible worlds. Reading Hegel as a philosopher of possibility, against a tradition that has conceived of him primarily as a philosopher of necessity, rationality, and finitude, Nahum Brown demonstrates the historical background and philosophical traditions from which Hegel's concept of possibility emerges.
Systematically outlining Hegel's conceptions of positive and negative freedom, Brown reveals the Hegelian underpinnings of our conception of reality and what it is to be in the world itself. Original and convincing, this book is crucial for philosophers approaching modality from any tradition.
https://search.lib.uiowa.edu/permalink/f/7nh330/01IOWA_ALMA21733117380002771
A Permanent Beginning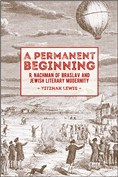 Situates a Hasidic master in the context of his time, demonstrating his formative influence on Jewish literary modernity.
The Hasidic leader R. Nachman of Braslav (1772–1810) has held a place in the Jewish popular imagination for more than two centuries. Some see him as the (self-proclaimed) Messiah, others as the forerunner of modern Jewish literature. Existing studies struggle between these dueling readings, largely ignoring questions of aesthetics and politics in his work. A Permanent Beginning lays out a new paradigm for understanding R. Nachman's thought and writing, and, with them, the beginnings of Jewish literary modernity. Yitzhak Lewis examines the connections between imperial modernization processes in Eastern Europe at the turn of the eighteenth century and the emergence of "modern literature" in the storytelling of R. Nachman. Reading his tales and teachings alongside the social, legal, and intellectual history of the time, the book's guiding question is literary: How does R. Nachman represent this changing environment in his writing? Lewis paints a nuanced and fascinating portrait of a literary thinker and creative genius at the very moment his world was evolving unrecognizably. He argues compellingly that R. Nachman's narrative response to his changing world was a major point of departure for Jewish literary modernity.
https://search.lib.uiowa.edu/permalink/f/7nh330/01IOWA_ALMA21732803450002771
Authentically Orthodox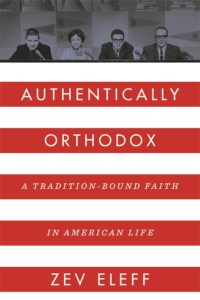 With a fresh perspective, Authentically Orthodox: A Tradition-Bound Faith in American Life challenges the current historical paradigm in the study of Orthodox Judaism and other tradition-bound faith communities in the United States.Paying attention to "lived religion," the book moves beyond sermons and synagogues and examines the webs of experiences mediated by any number of American cultural forces. With exceptional writing, Zev Eleff lucidly explores Orthodox Judaism's engagement with Jewish law, youth culture and gender, and how this religious group has been affected by its indigenous environs. To do this, the book makes ample use of archives and other previously unpublished primary sources.
Eleff explores the curious history of Passover peanut oil and the folkways and foodways that battled in this culinary arena to both justify and rebuff the validity of this healthier substitute for other fatty ingredients. He looks at the Yeshiva University quiz team's fifteen minutes of fame on the nationally televised College Bowl program and the unprecedented pride of young people and youth culture in the burgeoning Modern Orthodox movement. Another chapter focuses on the advent of women's prayer groups as an alternative to other synagogue experiences in Orthodox life and the vociferous opposition it received on the grounds that it was motivated by "heretical" religious and social movements. Whereas past monographs and articles argue that these communities have moved right toward a conservative brand of faith, Eleff posits that Orthodox Judaism—like other like-minded religious enclaves—ought to be studied in their American religious contexts.
https://search.lib.uiowa.edu/permalink/f/7nh330/01IOWA_ALMA21732839200002771
Gendered Paradigms in Theologies of Survival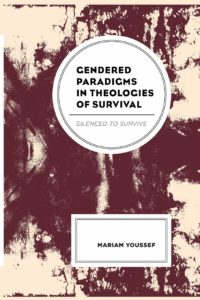 Gendered Paradigms in Theologies of Survival: Silenced to Survive is a book about women in survival communities and the ways that survival and theology are used to shut down women's voices. Mariam Youssef examines the ways in which the condition of survival puts religious women in a bind by embedding paradigms into theology that, more often than not, reinforce women's subordination as a condition of survival. Women in survival communities are not only grappling with the existential threat that comes with their survival identities but also struggling to make their voices heard within their own communities where their needs are frequently put on the back burner. Survival communities often find themselves responding to their trauma in ways that prescribe strict patriarchal norms, promoting notions of gender binary and compulsory heterosexuality.
https://search.lib.uiowa.edu/permalink/f/7nh330/01IOWA_ALMA21732839690002771
A Qualitative Study of Black Atheists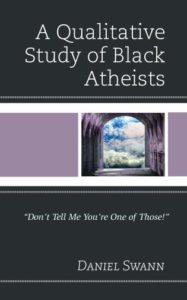 A Qualitative Study of Black Atheists: "Don't Tell Me You're One of Those" is an interdisciplinary examination of a group that is rarely the study of inquiry, Black Atheists. Using in-depth, qualitative interviews, Daniel Swann builds a foundation for understanding Black Atheist identities, how Black Atheists conceive of themselves, how they perceive, internalize, and manage stigma, how they view in-group belonging, and how they understand their experiences as Atheists to be racialized. The author argues these unique circumstances have produced a distinctive identity at this particular intersection of race and religion.
https://search.lib.uiowa.edu/permalink/f/7nh330/01IOWA_ALMA21732842360002771
Jesuit Kaddish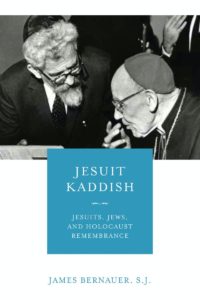 While much has been written about the Catholic Church and the Holocaust, little has been published about the hostile role of priests, in particular Jesuits, toward Jews and Judaism. Jesuit Kaddish is a long overdue study that examines Jesuit hostility toward Judaism before the Shoah and the development of a new understanding of the Catholic Church's relation to Judaism that culminated with Vatican II's landmark decree Nostra aetate. James Bernauer undertakes a self-examination as a member of the Jesuit order and writes this story in the hopes that it will contribute to interreligious reconciliation. Jesuit Kaddish demonstrates the way Jesuit hostility operated, examining Jesuit moral theology's dualistic approach to sexuality and, in the case of Nazi Germany, the articulation of an unholy alliance between a sexualizing and a Judaizing of German culture. Bernauer then identifies an influential group of Jesuits whose thought and action contributed to the developments in Catholic teaching about Judaism that eventually led to the watershed moment of Nostra aetate. This book concludes with a proposed statement of repentance from the Jesuits and an appendix presenting the fifteen Jesuits who have been honored as "Righteous Among the Nations" by Israel's Yad Vashem Holocaust Center. Jesuit Kaddish offers a crucial contribution to the fields of Catholicism and Nazism, Catholic-Jewish relations, Jesuit history, and the history of anti-Semitism in Europe.
https://search.lib.uiowa.edu/permalink/f/7nh330/01IOWA_ALMA21735702860002771
The Figure of Abraham in John 8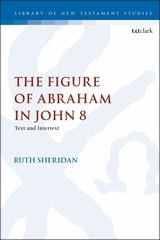 This is the first volume to extensively explore the intersection between Johannine anti-Judaism and Abrahamic allusions, using the theoretical lens of poststructuralism and intertextuality theory. Ruth Sheridan's study yields new insights into how the metaphors of 'sin', 'slavery' and 'vision' are constructed in the text, producing an interpretation consistent with figurations of Abraham in Early Judaism as a paternal figure of vicarious merit.
John 8.31-59 is often categorised in New Testament scholarship as one of the most polemical texts illustrating nascent Christianity's anti-Jewish trajectory, as Jesus debates with 'the Jews' about their reputed diabolic paternity, sidelining their own selfidentifications that are steeped in biblical traditions. Another defining feature of the text is its repeated reference to the figure of Abraham, displaying a condensed network of intertextual allusions to Abraham seen nowhere else in the Fourth Gospel. Sheridan seeks instead to rehabilitate the Jewish voice of the text, working with the narrative intertext of 'the Jews" self-characterisation as the 'seed of Abraham' to counteract particular pejorative readings of John 8 found in the secondary literature.
https://search.lib.uiowa.edu/permalink/f/7nh330/01IOWA_ALMA21732838910002771
Bad Christians, New Spains
This book centers on two inquisitorial investigations, both of which began in the 1540s. One involved relations of Europeans and Native Americans in the Oaxacan town of Yanhuitlán (in New Spain, today's Mexico). The other involved relations of Moriscos (recent Muslim converts to Catholicism) and Old Christians (people with deep Catholic ancestries) in the Mediterranean kingdom of Valencia (in the "old" Spain).
Although separated by an ocean, the social worlds preserved in these inquisitorial files share many things. By bringing the two inquisitions together, Hamann reveals how very local practices and debates had long-distance parallels, parallels that reveal larger entanglements of the early modern world. Through a dialogue of two microhistories, he presents a macrohistory of large-scale social transformation. We see how attempts in both places to turn old worlds into new ones were centered on struggles over materiality and temporality. By paying close attention to theories (and practices) of reduction and conversion, Hamann suggests we can move beyond anachronistic models of social change as colonization, and place early modern concepts of time and history at the center of our understandings of the sixteenth-century past.
https://search.lib.uiowa.edu/permalink/f/7nh330/01IOWA_ALMA21732838760002771
Philosophical Mysticism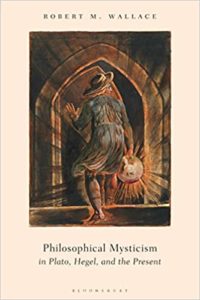 Few twenty-first century academics take seriously mysticism's claim that we have direct knowledge of a higher or more "inner" reality or God. But Philosophical Mysticism argues that such leading philosophers of earlier epochs as Plato, G. W. F. Hegel, Ludwig Wittgenstein, and Alfred North Whitehead were, in fact, all philosophical mystics. This book discusses major versions of philosophical mysticism beginning with Plato. It shows how the framework of mysticism's higher or more inner reality allows nature, freedom, science, ethics, the arts, and a rational religion-in-the-making to work together rather than conflicting with one another. This is how philosophical mysticism understands the relationships of fact to value, rationality to ethics, and the rest. And this is why Plato's notion of ascent or turning inward to a higher or more inner reality has strongly attracted such major figures in philosophy, religion, and literature as Aristotle, Plotinus, St Augustine, Dante Alighieri, Immanuel Kant, Hegel, William Wordsworth, Ralph Waldo Emerson, Emily Dickinson, Whitehead, and Wittgenstein.
https://search.lib.uiowa.edu/permalink/f/7nh330/01IOWA_ALMA21733124360002771