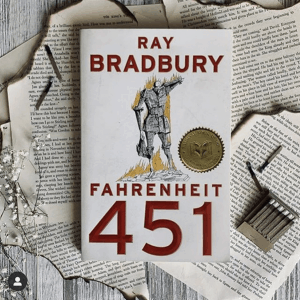 On Saturday, August 22, 2020, the University of Iowa Libraries will partner with national organizations to present the first annual Ray Bradbury Read-A-Thon. During this four-hour online event, a diverse group of celebrities and Bradbury experts, including Peter Balestrieri, curator of science fiction and popular culture collections at the University of Iowa Libraries Special Collections & Archives, will present a virtual reading of Bradbury's classic novel Fahrenheit 451 streamed over YouTube beginning at 3:30 pm CDT.
The read-a-thon, which celebrates the centennial of Bradbury's birth, is hosted by the Library of Congress, the Los Angeles Public Library, and the Alliance for Young Artists & Writers (presenter of the Scholastic Art & Writing Awards). Event partners are public and university libraries nationwide, including the University of Iowa Libraries, with its robust collections of primary source materials on science fiction writers, including Ray Bradbury.
The Read-A-Thon's on-camera readers will be as diverse as America itself. Some 40 people, including Balestrieri, will pre-record a short segment of Fahrenheit 451. Those segments, and a few from celebrity guests, will be edited into one continuous reading of the entire book, creating four hours of thought-provoking entertainment.
Carla Hayden, Librarian of Congress, will provide the introduction to the reading. Additional introductions and readings will be given by John Szabo (Los Angeles Public Library), General Charles Bolden, Jr. (NASA), Ann Druyan (writer/producer/director), William Shatner (actor), Neil Gaiman (author), Marlon James (author), Marjorie Liu (author), P. Djèlí Clark (author), Brenda Greene (author), Alley Mills Bean (actress), James Reynolds (actor), Tananarive Due (author), Steven Barnes (author), and Rachel Bloom (actress).
Some readers, like Balestrieri, will record from their homes, others from their hometown libraries—or from the places where Bradbury himself lived, worked, and explored. Locations will include the historic rooms of the Los Angeles Public Library, the Library of Congress, and the former Carnegie Library building in Waukegan where Bradbury spent much of his childhood lost in books.
Ray Bradbury's contribution to the literary landscape and our collective imagination made him one of the best-known writers of our time. His books now sit on library shelves alongside the works of authors he read in his youth at the Carnegie Library in Waukegan, Illinois. After his family moved to Los Angeles during the Great Depression, he discovered the stacks of the Venice library and many others: no matter where he lived, the library was his school. As Bradbury would later say: "I'm completely library educated. Libraries are absolutely at the center of my life. Since I couldn't afford to go to college, I attended the library three or four days a week from the age of eighteen on, and graduated from the library when I was twenty-eight."
Fahrenheit 451, a cautionary dystopian tale about the cost of apathy and the power of curiosity, is one of the most checked-out books at libraries throughout the United States. Viewers of the Read-A-Thon will discover–or rediscover–this redemptive story that is as powerful today as it was when it was first written. www.raybradbury.com
After the initial broadcast, the Read-A-Thon will be available until September 5, 2020.
The Participating Partners: Library of Congress, Los Angeles Public Library, and Alliance for Young Artists & Writers and the Contributing Libraries and Institutions are: Anchorage Public Library (Alaska), Athens Regional Library System (Georgia), Boston Public Library (Massachusetts), Broward County Library (Florida), Center for Black Literature at Medgar Evers College, CUNY (New York), Center for Ray Bradbury Studies (Indiana), Central Arkansas Library System (Arkansas), Charlotte Mecklenburg Library (North Carolina), Columbus Metropolitan Library (Ohio), Cushing Memorial Library & Archives, Texas A&M University (Texas), Des Moines Public Library and Library Foundation (Ohio), Indian Valley Public Library (Pennsylvania), Pima County Public Library (Arizona), San Francisco Public Library (California), South Pasadena Library (California), The Friends of the Venice Library (California), The Seattle Public Library (Washington), University of Alaska Anchorage Consortium Library (Alaska), University of Iowa Libraries (Iowa), University of Kansas Libraries (Kansas), University of Pittsburgh Library System (Pennsylvania), and the Waukegan Parks District and Library (Illinois)
RAY BRADBURY
In a career that spanned more than seventy years, Ray Bradbury inspired generations of readers in a wide variety of genres to dream, think, and create. A prolific author of more than four hundred published short stories and close to fifty books, as well as numerous essays, plays, operas, teleplays, and screenplays, Bradbury is one of the most widely translated authors in the world and one of the most celebrated writers of our time. His enduring novels and short story collections include The Martian Chronicles, The Illustrated Man, The Golden Apples of the Sun, Fahrenheit 451, The October Country, Dandelion Wine, A Medicine for Melancholy, and Something Wicked This Way Comes. RayBradbury.com
LIBRARY OF CONGRESS
The Library of Congress is the world's largest library, offering access to the creative record of the United States — and extensive materials from around the world — both on- site and online. It is the main research arm of the U.S. Congress and the home of the U.S. Copyright Office. Explore collections, reference services and other programs at loc.gov; access the official site for U.S. federal legislative information at congress.gov; and register creative works of authorship at copyright.gov.
LOS ANGELES PUBLIC LIBRARY
The Los Angeles Public Library system, with 72 branches, serves the residents of the City of Los Angeles. The system holds more than six million volumes, and with over 18 million residents in the Los Angeles Metropolitan area, it serves the largest population of any publicly funded library system in the United States. lapl.org
THE ALLIANCE FOR YOUNG ARTISTS AND WRITERS
The Alliance for Young Artists & Writers, presenter of the Scholastic Art & Writing Awards, identifies teenagers with exceptional artistic and literary talent and brings their remarkable work to a national audience. Established in 1923 by Maurice R. Robinson, the founder of Scholastic Inc., the Awards are the longest-running, most prestigious recognition program for creative teenagers across America and one of the largest sources of scholarships for young artists and writers. The Awards have an impressive roster of notable Alumni, including Tshabalala Self, Stephen King, Kay Walking Stick, Charles White, Joyce Carol Oates, and Andy Warhol. This past year, the Alliance received 320,000 submissions from 112,000 students, grades 7-12 (ages 13 and up) from across the nation. The Alliance is proud to partner with the Ray Bradbury Foundation to launch the Ray Bradbury Award for Science Fiction and Fantasy as part of its 2021 Awards offerings. artandwriting.org
UNIVERSITY OF IOWA LIBRARIES
The University of Iowa Libraries' Special Collections and Archives holds a wealth of rare and unique materials related to Ray Bradbury—from amateur writing and artwork found in science fiction fanzines to his first professional work that appeared in pulp magazines. Our collections include special editions of his books, early photographs, an anti-fascism statement he signed as a teenager, and much more. For more information, please visit www.lib.uiowa.edu/sc, email lib-spec@uiowa.edu, or contact Peter Balestrieri, curator of science fiction and popular culture, at peter-balestrieri@uiowa.edu.