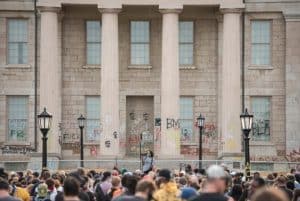 We're living in unprecedented times. Protesters are speaking out against the murder of George Floyd, police brutality, and systemic racism. The UI Libraries' Special Collections plans to pursue a careful approach toward archiving the protests in our community. We recognize potential pitfalls in a white institution rushing to collect materials about marginalized communities of color, problems such as collecting to "check the box" or collections that hurt or mischaracterize communities of color. We also recognize the problems with archival silence. Our efforts will be a three-tiered approach designed to expand authentically and ethically over time:
Gather photos.We are both taking and collecting photographs of graffiti around town and campus. These are photos of protest evidence that do not include people. We are not soliciting photographs of protests or protesters out of concern for protecting their identities.
Listen by reaching out to existing relationships within communities of color.We are working with pre-existing institutional and individual connections through three staff members who have long-established relationships with individuals in our community.
Erik Henderson, a student worker in Iowa Women's Archives (IWA) and Special Collections, is reaching out to his connections, including campus and community groups.
David McCartney, the UI Libraries' University Archivist, is reaching out to several connections.
Janet Weaver, assistant curator in IWA is reaching out to LULAC (League of United Latin American Citizens).
Wait for material to come in down the road.This is a tried-and-true measure for us that allows us to expand our collections organically as we build connections with individuals and with organizations over time, not overnight.