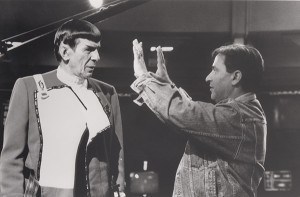 Photo credit: Nicholas Meyer on set with Leonard Nimoy during the shooting of Star Trek VI: The Undiscovered Country. The photo is archived in the University of Iowa Libraries' Special Collections as part of a collection donated by Nicholas Meyer.
The UI Libraries is pleased to host Nicholas Meyer, who will make an appearance as a guest speaker in conjunction with the Main Library Gallery exhibition 50 Years of Star Trek.
The event is free and open to the public. RSVPs are appreciated. http://bit.ly/UI-LIB-Meyer
Meyer, who is an alumnus of the University of Iowa, directed the movie Star Trek II: The Wrath of Khan (1982) and contributed to the shooting script for that film (uncredited). He wrote portions of the screenplay for Star Trek IV: The Voyage Home (1986) and went on to direct Star Trek VI: The Undiscovered Country (1991), for which he also co-wrote the screenplay.
A long-time Sherlockian, Meyer's writing prowess led to a best-selling novel, The Seven-Per-Cent Solution: Being a Reprint from the Reminiscences of John H. Watson, M.D.  The novel, crafted by Meyer in a style faithful to the original series, follows Holmes through cocaine addiction and recovery.  Meyer received an Oscar nomination for his screenplay of the novel.
Meyer will deliver a brief talk, titled The Last Man To Understand Anything. There will be a Q&A session afterward.